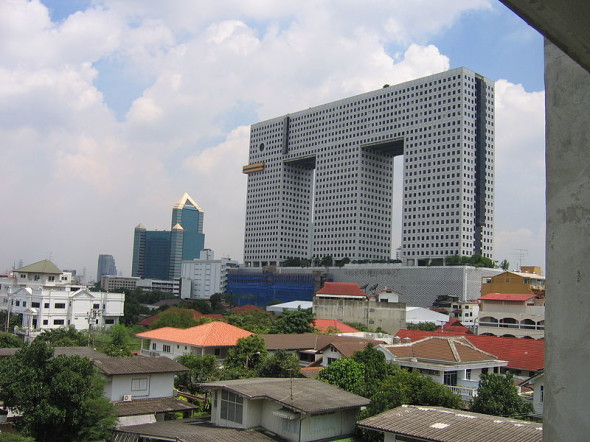 Imagine my surprise when I walked past Bangkok's Elephant Building (Tuk Chang or Dtuk Chang in Thai) today, to see a huge banner saying "Best Western Tuk Chang –  Coming Soon". Looks like the Elephant Building is soon going to be home to an American chain hotel.
The Elephant Building in Bangkok is a famous Thai landmark but, in recent years, because of the economy many of the small shops and restaurants have moved out, so it's been far less busy than it used to be.
But, according to the manager of my apartment building, who I asked about Best Western Tuk Chang (Thais know everything about what's going on in their neighborhoods), half of the Elephant Building is being converted into a Best Western Hotel, with the other half still remaining as the regular Elephant Building condos.
Good news, I say. The Elephant Building is such a wonderful building, and deserves to have the life brought back to it.
The Elephant Building is also in a great location as it is just a 5-minute bus ride to Bangkok's sky train and underground train systems, as well as almost directly opposite the large Major Ratchayothin Mall, with its many restaurants, cafes, bowling alley and movie theater, and just a few blocks walk to the newly renovated Central Ladprao Mall and Union Mall.
It is just a five-minute bus ride from the world-famous Chatuchak Weekend Market, Asia's largest open-air market as well. So guests at the Best Western Tuk Chang will have plenty to keep them occupied.
Being in the north of Bangkok, Best Western guests should get an inexpensive room rate too, as it is not right downtown but easy enough to get there from the Elephant Building.
Plus, of course, they will be staying in one of the coolest buildings in Bangkok.
No news yet on when Best Western in the Elephant Building will be opening. According to the locals, however, it should be within the next year.