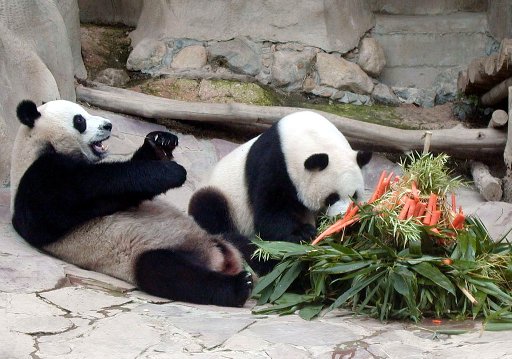 If you enjoy visiting zoos, you'll love being in Thailand. Thailand has some excellent zoos – some the typical animals-in-cages variety, and some the open-air animals-roaming-free type – there's a zoo for every taste in Thailand. From Dusit Zoo in Bangkok to Khao Kheow Open Zoo in Chonburi, and Chiang Mai Zoo, famous for its giant pandas, you'll find one in Thailand you'll absolutely love.
If you like spending the day at a zoo, check out one of these best Thai zoos. Perfect for you, the family and the kids.
Chiang Mai Zoo – Probably the most famous zoo in Thailand right now, Chiang Mai Zoo is very popular because it's one of the few zoos in the world that actually has giant pandas from China. It became even more popular earlier this year when a giant panda cub was born, one of the few in captivity outside China.
Actually started by an American missionary in the 1950s as a private animal collection, the collection expanded enough that it finally had to be moved to the foothills of Doi Suthep mountain, and was eventually donated to the Thai government.
Chiang Mai Zoo has a wonderful Walk-Through Aviary with almost 1,000 birds, more than 7,000 animals, a large Freshwater Aquarium and a very cool Open Zoo, where you can walk across a sky walkway to see the 200 animals living here.
In the evening, there's a Twilight Zoo (a type of Night Safari) although, with only a few animal species to be seen, it's a bit tame. You can get to Chiang Mai Zoo either by taxi, bus or songtaew and with an entrance fee of only 100 baht ($3) for foreigners and 50 baht for Thais ($1.50), it's a cheap day out.
Dusit Zoo, Bangkok – Dusit Zoo is in the Dusit District of Bangkok, near Parliament House. A much smaller zoo than Khao Kheow Open Air Zoo, it still has almost 2,000 animals, a museum featuring some excellent information about wildlife and animal conservation, an animal hospital and a very good cafeteria.
There's an excellent Reptile Exhibit and a fun Monkey Zone, with varies species of monkeys from Thailand and other countries, as well as a good Children's Zoo.
There is also a lovely lake where you can rent boats, a Bird Show with some smart parrots, and trams you can ride around the zoo. With an admission price of only 100 baht (around $3, and that's farang price!), Dusit Zoo is a good deal. Just make sure you don't go on the weekends, as it is incredibly crowded.
Khao Kheow Open Air Zoo, Chonburi – Khao Kheow Open Air Zoo is, in my opinion, the best zoo in Thailand. It's quite large, but what makes it fun is that it's all open air, with animals in enormous grassy enclosures with plenty of room to run. At Khao Kheow Open Air Zoo, you can take a tram that travels all the way around the zoo, stopping at particular enclosures so the guide can explain about the animals.
Khao Kheow is on 2,000 acres, with more than 8,000 animals including its rare white tigers. You can rent bicycles and cycle around the entire zoo, or you can take the Night Safari, where you can see the animals at night. The zoo also has a walk-thru aviary, where you can see hundreds of different species of birds.
When I was there, they even had a small nursery set up for tiger cubs and, at certain hours of the day, the zoo would open up the nursery at bottle feeding time, so you were literally a few inches away from the cubs. Khao Kheow has some excellent food stalls, great games for the kids, and a couple of gift shops selling cute stuffed animals and toys. Just over an hour outside Bangkok, it is also easy to get to, and a fun day for all the family. You can hire a taxi to get there, or take one of the many day tours organized by Bangkok travel agents.
Songkhla Zoo – Located in Songkhla province in southern Thailand, Songkhla Zoo is another open zoo, meaning you can see the zoo animals roaming free in large grassy enclosures in their natural habitat. With less than 1,000 mammals and a couple of hundred birds, it's only a small zoo compared to other zoos in Thailand, as it's only been open for a few years.
In that time however, it's become famous for its breeding program for tapirs, an endangered species in south east Asia, as well as the two pairs of penguins recently donated by Dusit Zoo. Songkhla Zoo is also constructing a Night Safari, so visitors to the zoo should soon be able to stay on into the evening and see the animals at night.
The zoo has food stalls serving delicious food and snacks, as well as a good gift shop, especially for the kids. Songkhla Zoo is just outside the city center so it's easy to get to by bus or taxi. Also, don't miss the scenic overlook, where you can look out over the whole of Songkhla.
Nakhon Ratchasima Zoo – The Nakhon Ratchasima Zoo is another small zoo, and is located about five miles outside the city center. The zoo has around 600 animals and 500 birds, as well as a couple of hundred reptiles. There's a fun penguin and seal exhibit, a Dino Park and a cute children's zoo.
I like Nakhon Ratchasima Zoo as it is small, but it seems authentic Thai, with friendly people working there, excellent Thai food at the food stalls and a lot of greenery and shady walks, so you can wander around the zoo at your own pace.
If you don't like walking, take one of the trams that drive around the zoo or, if you want some exercise, you can rent a bike and peddle around at your own leisure.
One thing I love about Thailand's zoos is the weather is almost always nice, so you are guaranteed a pretty day at the zoo. Many of Thailand's zoos also concentrate on animal breeding and conservation of endangered species, working closely with international wildlife organizations to ensure Thailand's animal population doesn't disappear.
Any of Thailand's zoos are a fun day out for adults and kids and, at the low admission prices, they're a cheap day trip too.