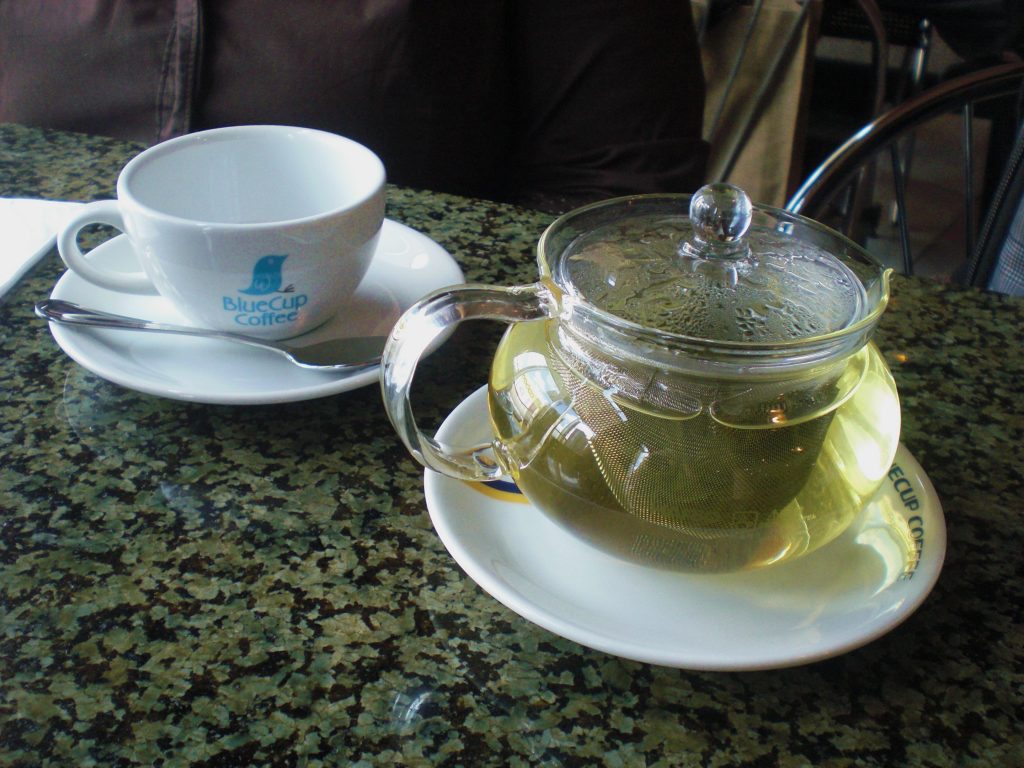 I'm not a coffee chain person, preferring to frequent independent coffee shops, but I make an exception with Blue Cup Coffee in Bangkok, Thailand. Owned by the enormous Thai restaurant chain, S&P, Blue Cup Coffee is special as it serves awesome coffee-based drinks, some superb food and, of course, those delicious desserts. I love Blue Cup too as the design of the cafes is so pretty and cool, they're a lovely place to relax after a busy day of shopping.
What is Blue Cup Coffee? – Blue Cup Coffee is part of the large S&P chain of restaurants. Some Blue Cup Coffee outlets are within S&P restaurants. Others are stand-alone coffee shops, but all serve good coffee and tea, cheap and delicious food and cake, cake, cake. Interestingly, the whole company was begun back in the early 1970s by one Thai woman. Nowadays, there's more than 300 restaurant outlets in Thailand. Not bad for one young Thai woman, eh?
Food at Blue Cup Coffee – Getting good food in Bangkok is about as easy as walking outside your front door. In fact, there's so much good food, when you find a place that surpasses many other places, you really have to shout about it. And that's what I'm doing about Blue Cup Coffee.
Not the best food in Bangkok, by any stretch of the imagination, Blue Cup Coffee still serves extremely good food at a price lower than many other Bangkok restaurants of a similar standard. The food, of course, comes direct from S&P kitchens but, as S&P is known by Thais as one of the highest quality Thai food companies in the country, it's really not surprising its delicious.
Look for typical Thai dishes like spaghetti with a pork bolognese sauce (sweeter than the western style but still very tasty), excellent and non-greasy fried rice, Thailand's traditional Pad Thai, and a nice selection of sandwiches. At Blue Cup Coffee branches, the menu is quite small, but if you eat at a Blue Cup Coffee within an S&P restaurant, you then have access to everything S&P serves and that's more than 100 dishes.
For sweet toothes, you shouldn't miss their chocolate brownies (usually pretty dry and awful in Thailand, but Blue Cup Coffee's are soft, rich and chocolaty), or their apple and raisin danish (soft and chewy and very apple-y tasting). They also serve a variety of cookies (their chocolate chip cookies are wonderful), muffins and of course, cakes. Everything from chocolate cake to cheesecake, a lemon chiffon-style cake and, if you love durian (that stinky Thai fruit) they even serve a durian pie made of a custard-style durian filling in pastry – delicious.
As for drinks, Blue Cup Coffee has a huge selection. The usual lattes, espresso, cappuccinos, and a variety of tea-based drinks too. My favorite drinks here are, of course, the hot latte (I drink about 10 a day, so must have my fix here too) – it's stronger than at Coffee World or Starbucks but the coffee isn't bitter or burned. Plus, if you want extra milk to water the taste a little, they're more than happy to oblige.
As for iced drinks, perfect in Bangkok and sold en masse at Blue Cup Coffee, I highly recommend the Milky Way, which is a milky espresso on lots of ice, or if you don't mind a very sweet coffee drink, you can't beat the Creme Brulee Frost – with its topping of crunchy brown sugar – yum!
Prices at Blue Cup Coffee – Price-wise, Blue Cup Coffee is in the mid-range for a Bangkok cafe/restaurant but, for the quality of food, (it's always high-quality, made with superbly fresh ingredients and non-oily) I think it's extremely reasonable.
For two people for lunch, a drink and a dessert, expect to get away with around 450-500 baht ($15-16.50), inexpensive I think for such a nice cafe and good food.
You'll find Blue Cup Coffee in various locations around Bangkok but my favorites are at SCB, East Tower (it's quiet and a great place to sit and read), The Mall Bangkapi, RSU Tower and their Siam Square location.