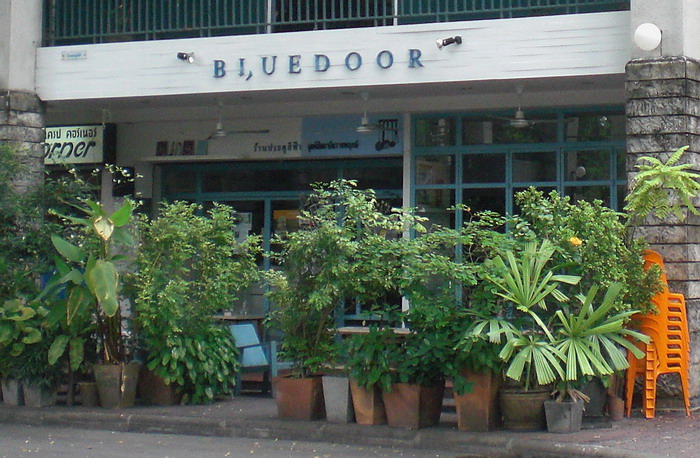 Until I bought "Cafe Culture", a book on Bangkok's best coffee houses, I'd never heard of Blue Door Cafe and Bookshop. Located on a quiet soi in downtown Bangkok, Thailand, photos of Blue Door Cafe were featured on the cover of the book and prominently inside, as it's incredibly stylish and unique. Since then, a Thai friend and I have been planning to go and, this weekend, we finally made it. Blue Door Cafe and Bookshop is one of the best independent coffee houses in Bangkok, and since Saturday II can say that with certainty.
Location of Blue Door Cafe and Bookshop – Situated a fair way down Ekkamai Soi 10, the best way to get to Blue Door is to take the sky train to Ekkamai station and, once there, walk to the corner of Ekkamai Soi 10, where you'll see a group of motorcycle taxis. Hop on the back of one and tell the motorcycle driver you're going to Blue Door, which is about three quarters of a mile down the soi on the right hand side, just past Index Living Mall. He'll have no problem finding it.
What is Blue Door Cafe and Bookshop? – Not just your stereotypical Bangkok independent coffee house, Blue Door is a cafe, a restaurant, a small bookshop and even a music venue, as they have live music, from various Thai musicians, on Friday nights.
The atmosphere is one of the big reasons Blue Door has become so popular though. Designed to look like an old-fashioned cafe on the outside, with a variety of chairs and tables to relax in, on the inside it's light, modern and trendy and loaded with books, bookshelves, framed paintings all over the walls and floor to ceiling windows. Everything is pristine and clean and so very lovely. When I first walked in I simply couldn't stop staring at everything and taking photographs, it's really that pretty.
What Does Blue Door Cafe and Bookshop Serve? – Located in a small strip mall, just off the main Ekkamai Road, Blue Door serves wonderful coffee and tea drinks, sells books from both large and small book publishers (both
Thai and English-language books), they have a good selection of magazines you can browse, and oh, did I mention, they also serve beer, wine and cocktails? Yes, they do and they're inexpensive too.
On top of that, Blue Door serves up some excellent basic Thai food (slightly spicy, but still delicious), and don't forget the soy milk ice cream for dessert.
Prices are reasonable at Blue Door too – another reason it has such a loyal clientele. My friend and I both ordered spicy shrimp and sauteed vegetables with rice and a fried egg (absolutely delicious), and iced coffees and then ice cream for dessert, and we still spent less than 380 baht ($12.50).
If you're looking for a real coffee house in Bangkok, Thailand that serves superb coffee, meals and snacks and has the added attraction of being just so darned lovely, you must visit Blue Door Cafe and Bookshop. The staff is delightful, the clientele is fascinating to watch as they're so artsy-fartsy and cool and, of course, they have free Wi-Fi, so you can surf the net or, like me, get some work done in a quiet and relaxed atmosphere.
Blue Door Cafe and Bookshop is open from Monday to Saturday, 11am to 11pm. They're closed on Sundays Blue Door, 3 Soi Ekamai Soi 10 Sukhumvit 63, Bangkok.