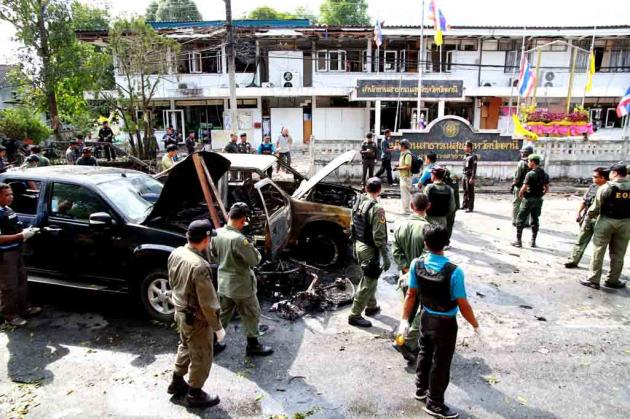 Things certainly aren't getting better in southern Thailand. With more violence and even more bombs, the latest bomb blast happened on Thursday morning in the middle of Pattani town center. It killed one Thai pensioner and injured 11 others, including a two-year-old and a five-year-old. The explosion also started a large fire, which took fire trucks several hours to put out.
The bomb had been hidden in a van that had been parked outside the offices of the Permanent Secretary for Pattani and the provincial Public Health Chief for two days. Even though police had received tip offs a week earlier that there may be car or motorcycle bombs, they put up check points but did not look at parked vehicles.
Another bomb also exploded on Thursday morning, this one in Narrathiwat. Two police officers were injured in that attack.
Bomb attacks and other ethnic separatist violence have worsened in Thailand since 2004. While most areas of the country are completely safe, the southern area, particularly around Pattani, is not and visitors and tourists to Thailand are usually warned to stay away. Muslim separatists target Buddhist monks, teachers, soldiers, and government officials, as well as ordinary citizens.
Almost 5,000 people have been killed since 2004 with another 6,000 injured. Included in those numbers are more than 500 soldiers and police officers killed.
Oddly though, the separatist moment in the south isn't that widespread, with less than 13% of people polled saying they wanted independence from Thailand. The problem is, those who do are very vocal and extremely violent, and they're the ones causing many of the problems. (Not all, of course, as the Thai army has done more than it's fair share of damage too).