Bangkok's best American resturant is Bourbon Street. Something most expats seem to know, but I did not.
Because weirdly, I had lived in Bangkok for eight years before I discovered Bourbon Street. But, when I did finally eat there, I couldn't believe I had missed this place for so long.
Bourbon Street in Bangkok has been in business for 32 years, is American-owned and operated (a rarity in Thailand) and serves authentic Cajun, Creole and Mexican food in an incredibly cool and comfy atmosphere.
Bourbon Street is also always packed full of people every time I go. A feat in itself, as the restaurant serves 150 people.
Bourbon Street Staff – The staff at Bourbon Street is some of the most efficient of any restaurant I have been to in Bangkok. Food arrives quickly, it is still piping hot and I have yet to receive an item I didn't order.
They are also friendly and sweet, (which is actually a given in Thailand but that doesn't often come with efficiency too!)
Bourbon Street Atmosphere – I thoroughly enjoy the atmosphere at Bourbon Street.
The restaurant is cozy and friendly feeling, with burnt orange walls, comfy rattan and leather furniture and subdued lighting. They also have a pretty area outside stocked full of huge leafy plants, where if it's busy you can wait if your table isn't ready.
The bar area too is nice and, if the restaurant is full, which it often is, you can eat here too.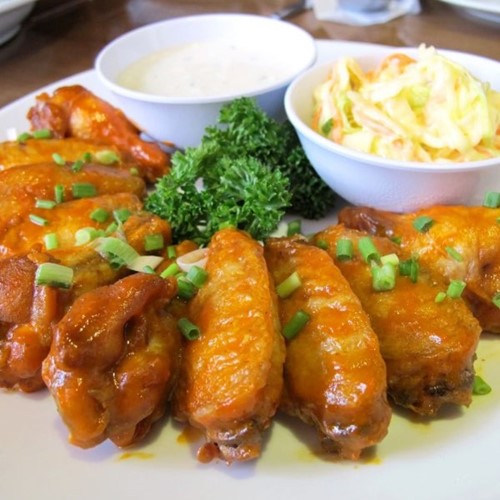 Bourbon Street Food – Now for the most important thing at Bourbon Street, the food. (Watch the video below to see it in all its tasty glory!)
Bourbon Street's menu is huge, with choices for just about everyone. The appetizer choices range from baby back ribs and shrimp cocktail to crab claws, buffalo fire wings and fried calamari.
A good choice of soups and salads is next (try their creole bouillabaisse, it is unbelievably flavorful), with options like crabmeat salad, New England clam chowder, or cream of mushroom soup.
For the main course, there are enormous amounts of choices in the Creole, Cajun and Mexican categories. I recommend the shrimp bisque, which is spicy enough to hit the palate just right, but not too spicy that your eyes water. The New Orleans seafood jambalaya is also amazing, as is the riverboat chicken.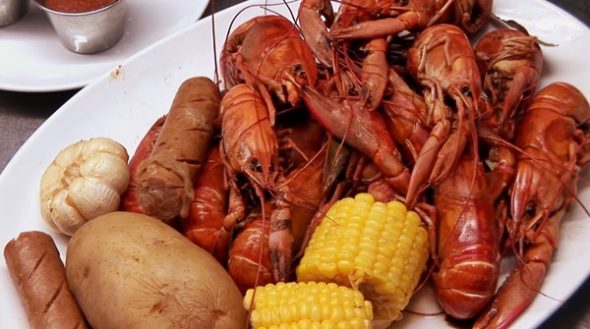 For Mexican food, you shouldn't miss the chicken fajitas. After all, Thailand's Mexican restaurants almost always disappoint but, at Bourbon Street, it is just like eating Mexican food in America.
Succulent chicken, perfectly cooked onions and peppers and fresh, fresh, fresh tortillas. You can also get fried chicken, beef brisket, spaghetti and about a hundred other dishes.
I am also a sandwich addict and their shrimp po-boy is to die for. They even serve pizza which, again, is wonderful and, again, is a dish that Thais don't often get right.
Plus, an even better reason for loving Bourbon Street – they open at 7am and serve some truly incredible breakfasts.
Bourbon Street Drinks – The restaurant has a well-stocked bar with a great selection of wine, beer and spirits. I have yet to order anything here that they didn't have, and the barman even suggested a couple of choices that were better than what I'd originally ordered.
Bourbon Street Prices – Compared to most Thai restaurants, prices at Bourbon Street are a little high. But, compared to other western restaurants in Bangkok, they are actually quite low.
Appetizers, soups and salads start at 150 baht, entrees at around 180 baht and up and you can get a great sandwich for 200 baht. Pizza too is only 250 to 350 baht for a small size, and that is plenty of food for one person.
I have eaten at Bourbon Street about seven times in the last two months and I will be going again for dinner next week.  After all, it is rapidly becoming my favorite western restaurant  in Bangkok because the food is just so darn good.
There's a reason why Bourbon Street has been named five years in a row as the "Bangkok's Best American Restaurant" – several reasons actually – the amazing food, the great service, the phenomenal staff and the fun atmosphere.
You can learn more about Bangkok's Best American Restaurant — Bourbon Street — at their website.
You'll find them at 9/39-40 Soi Tana Arcade Sukhumvit 63 Ekkamai, Klongton Nua Wattana in Bangkok.