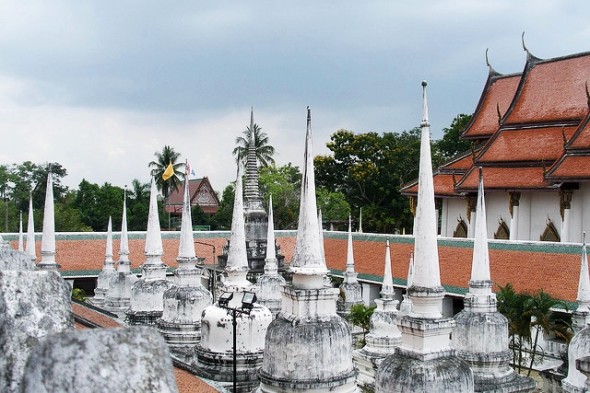 One of Thailand's most famous Buddhist temples, Wat Phra Mahathat Woromaha Vihan (in Thai, it's known as วัดพระมหาธาตุวรมหาวิหาร), has been nominated as a UNESCO World Heritage Site. The temple was originally built in 854 AD (311 BE), when a chapel was created to house Buddha relics. It is still believed to hold a tooth relic of Buddha to this day, which is why it is an important place for so many Thai Buddhists.
The original chedi which was built in 550 BE was said to have been built in the Srivijaya style. Nowadays, however, the current main chedi, which was built over the original one, is more Sri Lankan in design. It is still very beautiful, though.
According to the Director General of the Thailand Ministry of Culture's Fine Arts Department, Somesuda Leeyawanich, to submit a site to UNESCO to be considered as a World Heritage Site, the site must meet at least one of ten criteria. Khun Somesuda says Wat Phra Mahathat Woromaha Vihan meets three of the ten criteria, so stands a very good chance of being accepted.
Thailand currently has five UNESCO World Heritage Sites – Ban Chiang Archaeological Site, Dong Phayayen-Khao Yai Forest Complex, the Historic City of Ayutthaya, the Historic Town of Sukhothai and Thungyai-Huai Kha Khaeng Wildlife Sanctuaries. Several more sites in Thailand have been submitted to UNESCO for consideration previously.
Wat Phra Mahathat Woromaha Vihan should be ruled on by the UNESCO Committee within the next two years.