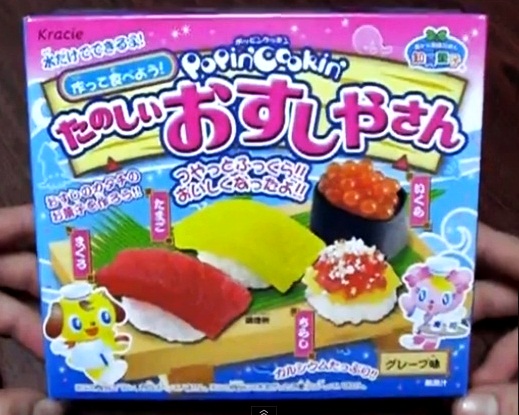 I was at a friend's house in Bangkok the other day and was delighted to see she had bought a sushi candy making kit. If you're not familiar with them, they're an amazing Japanese candy making kit that, in just a few steps, allows you to make sweet-tasting candy that looks just like real sushi. They're really cool, easy to make, and a fun gift for kids (and adults too, if you're really a 12-year-old at heart like I am).
Being from Japan, most of these sushi candy making kits also create candy that has no preservatives, no artificial colorings and is basically nothing more than gummi candy and lots and lots of sugar.
While they're not the most amazing tasting sweets you'll ever eat, I have to admit they do taste pretty nice — especially for something you whip up in your kitchen in just a few minutes. But it's just how cute they look that makes them so special.
After I got back home I did some research online, as I was fascinated by these things, and came across this video from RRcherrypie. This isn't the identical kit my friend bought in Bangkok, but it's close enough.
By the way, if you're interested in buying Japanese candy making kits in Bangkok, you'll find them at a variety of Japanese shops in the city including places like Isetan department store (and fabulous supermarket) at Central World Plaza. I've also seen them now and again at a couple of the Japanese supermarkets in Bangkok.
If you're not in Bangkok or not in Thailand, you can often pick up a variety of sushi candy making kits and other similar sweet fabrication packs at eBay — and price-wise, they're actually quite inexpensive.
Now watch the video below and learn how to make authentic looking sushi candy in just a few minutes. Cool, eh?