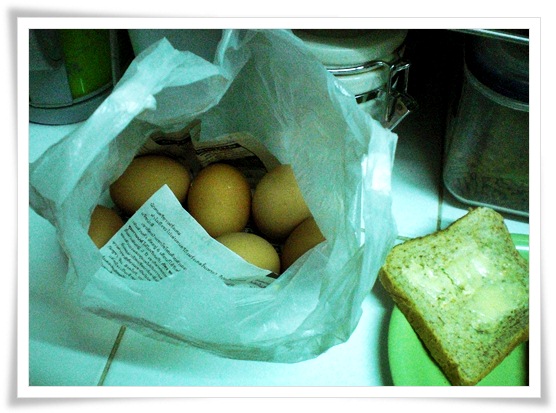 Several months ago, I stopped buying eggs at my local Bangkok supermarket and instead moved to buying fresh farm eggs instead. After all, not only are fresh farm eggs in Thailand cheaper than eggs at a Thai supermarket, they're also (as the phrase says) 'fresh'.
I buy my fresh farm eggs in Thailand at a small market at the bottom of my street. The market operates twice a week for several hours in the late afternoon, and one of the stalls sells eggs.
The Thai woman who runs it is lovely, her eggs come from the family farm so, yesterday, they were still tucked up safe and warm in the chicken's belly and, in some cases, they're even still lightly coated in chicken poop — nope, you don't get much fresher than that. (And no, you shouldn't clean eggs until you're ready to use them – if you do, a protective 'coating' is removed and your eggs won't stay fresh for long — every Thai knows this).
Since I've started to buy my eggs at a market stall in Bangkok, I've noticed my scrambled eggs, fried eggs and omelettes taste better, with a much richer taste than the typical eggs I used to buy from Tesco. They last longer as well.
As for price, if I buy medium-sized eggs at a Bangkok Tesco Lotus or Big C, they're currently selling for 45 baht for 10 (Thais don't usually sell eggs in dozens, they sell them in plastic cartons of 10). If I buy them at the market, they're 40 baht for 10 (5 baht or 20 cents cheaper) but they're also much larger in size.
By the way, as I've had several Americans ask me, no, Thais do not store eggs in refrigerators. There's absolutely no need to. In fact, in most countries in the world, eggs are stored on shelves.
My eggs are currently sitting on my bookshelf, as there isn't any room in my cupboards. They'll sit quite happily there and stay fresh and perfectly safe to eat for 3-4 weeks easily.