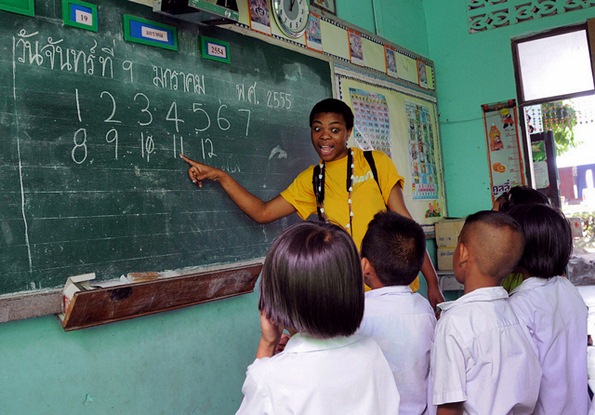 If you have a few months to spare or are waiting to start your teaching degree in the US, Canada, Europe or Australia, you might want to know if it's possible to get short-term teaching jobs in Thailand. That way you could get some experience, earn a little money and learn about a new culture. So, are short-term teaching jobs in Thailand ever available? Yes, they are. Thousands of them.
One-Semester at a Thai School — Many schools across Thailand often get stuck without an English teacher. A TEFL teacher just doesn't bother to show up for his job one day, or he gets fired. Either way, the school needs a new teacher and they need one fast.
In this case, you will usually be given a contract for a few months of work – May till October, for instance, or November until April – depending on which semester you're in Thailand. If you like the job and they like you, you'll often be given a contract for an additional year. If not, you've done your five months short-term teaching in Thailand and ended up with the money, teaching experience and cultural experience you wanted.
Look at the job board at Teaching Jobs in Thailand, for short-term positions.
Language Schools in Thailand — There are thousands of language schools in Thailand, almost all of which offer short-term teaching for teachers who either want to make a little extra money in the evening or on weekends, or for teachers who don't want to commit to long-term contracts.
You'll also get experience in a wide range of students — from beginners to advanced, and from young children just starting to learn English right up to corporate English teaching at some of Thailand's biggest companies.
Check out language schools like Inlingua, International House Bangkok, and look at Ajarn.com's job board where many language schools advertise for short-term English teachers in Thailand.
Summer Schools — Thailand is obsessed with learning English so Thai kids often don't get much of a break in the summer either. That's because many of them are sent to summer school.
Summer schools are a great way to get short-term teaching jobs in Thailand, as the people organizing the summer school are often looking for teachers who can just commit for a week, two to three weeks or a month.
In some cases, the schools will even be held 'up country' (anywhere that's outside Bangkok), so the school will pay for accommodation and food as well as a salary. Salaries tend to be quite low, but if you're looking for some quick cash or just a way to have some fun and help younger Thais learn more English, they can be very rewarding.
Again, check Ajarn.com's job board a month or so before summer schools begin to see what's available.
Summer school in Thailand, by the way, can be anytime from the the end of March till the beginning of May for government schools and bi-lingual schools. International school's summer school program's usually run in June or July.
By the way, once you're here and want to get a teaching job in Thailand quickly, this article will help you get a teaching job anywhere in Thailand in a week.