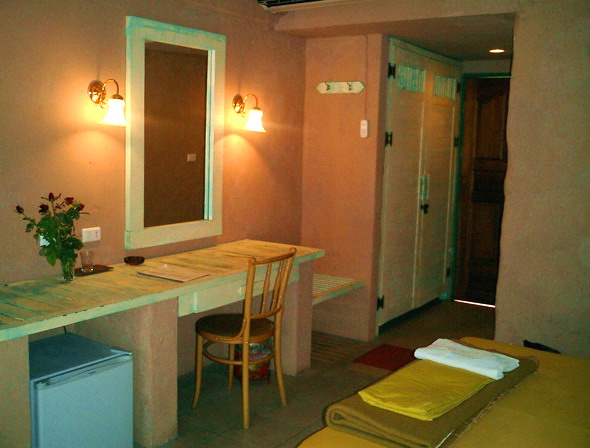 Casa Brazil Hotel is a wonderful little independent hotel, located right off the main street in the center of Karon Beach on Phuket Island.  It's a minutes walk from the beach, close to wonderful shopping, good cafes and restaurants and nightlife. Casa Brazil Hotel is a wonderful place to stay on Karon Beach and here's why.
Room Price at Casa Brazil Hotel – Karon Beach on Phuket Island is an inexpensive place to stay normally, but Casa Brazil Hotel is even more reasonably priced than other similar hotels. For a room with a double bed and a fan (ie: no airconditioning), the rate per night is 650 baht (around $22). For the same room with a double bed or twin beds and air conditioning, the rate is 800 baht per night (about $26). Extremely inexpensive for a hotel in such a good location. The rates also include an American breakfast.
Rooms at Casa Brazil Hotel – The rooms at Casa Brazil Hotel are quite large. They're also brightly painted in oranges and greens to match the Brazilian theme. They have private balconies (large ones too!), hot and cold water in the bathrooms and cable TV and wireless internet. Most rooms also have a minibar.
The rooms are nothing fancy, there's no carpet (which I actually love, as it's much cleaner than rooms with carpets where mildew and dirt dwell), and the bathrooms are open-plan, with the shower flooding the bathroom floor a little bit. The bathroom though, does dry quickly as it's so hot in Phuket, plus, the way the showers are built makes it easy for the maids to clean the bathrooms, so they really are spotless. All the time.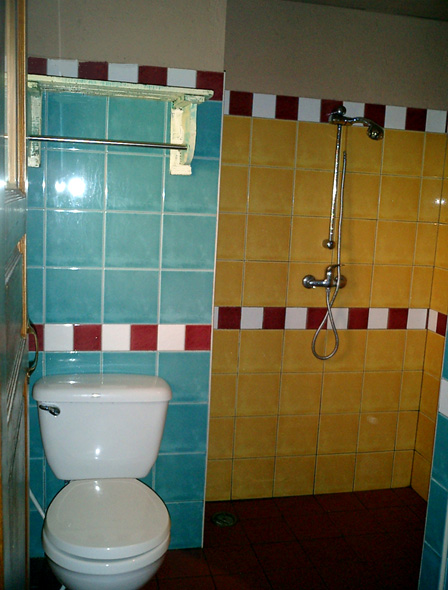 Food at Casa Brazil Hotel – The food at Casa Brazil Hotel in Karon Beach is excellent. The price of a room includes American breakfast and, when I stayed there, it was a choice of things like bacon, sausages, eggs, pancakes, fresh sliced fruit, and toast, with coffee or tea and orange juice.
They also serve you breakfast at pretty much any time you want. They have a decent menu for lunch, dinner or just a snack and prices are cheap too. You can get a good meal with a drink for 100 baht ($3.30), and the service is fast too.
Facilities and Services at Casa Brazil Hotel – Breakfast for 2 people is included in the price of the room, the hotel has a laundry service which is very fast (clothing cleaned and delivered back to your room usually the same day), internet service, safe deposit boxes for free, a free self-service coffee area upstairs and even a cute little lounge where you can borrow books and magazines for free.
Location of Casa Brazil Hotel – The location of Casa Brazil is excellent. Karon Beach is a small beach town with just two main streets, one running along the side of the beach and one running away from it and up until the hills. Casa Brazil is located off the second street, just half way up. It's down a small soi (lane) so less than a 1 minute walk to the main street, where you'll find restaurants, cafes, tailor shops, internet cafes, bars, clothing stores, a pharmacy, a supermarket and a lot more. Surprisingly though, it's still quiet.
Even at night, with the bars and nightlife, I never had any problems sleeping. It's also a minute walk to the beach, which is  lovely, and the second main street with cafes overlooking the ocean, restaurants, bookshops, bars and more.
Casa Brazil Hotel in Karon Beach, Phuket, is friendly and family-oriented. It's relaxed, the staff is incredibly nice and helpful, and the hotel itself has a wonderful atmosphere as it's so brightly painted and prettily designed.
For an inexpensive hotel, but one that has nice, exceptionally clean rooms, you can't beat Casa Brazil Hotel in Karon Beach. For more information and photos of the rooms, check out their website at Casa Brazil Hotel.