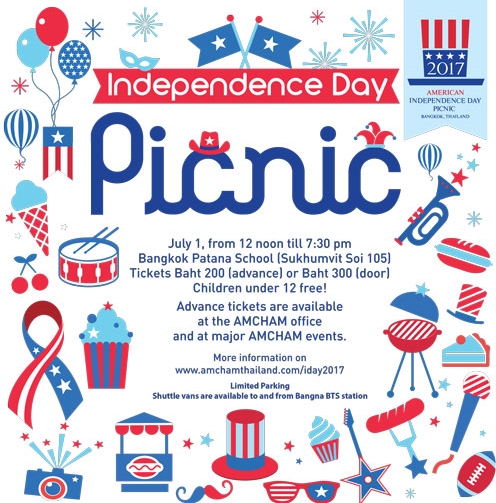 If you are in Bangkok and looking for a fun way to celebrate the 4th of July, then you might want to consider going to the American Chamber of Commerce (AMCHAM) Independence Day Picnic.
The 4th of July picnic is being organized in co-operation with Bangkok Patana School on Sukhumvit Soi 105 this year, and will include a slew of fun events for the entire family.
Expect live bands throughout the day playing some of the best rock, folk and blues in Bangkok, as well as a chili cook-off, a pie-eating competition and a raffle with some pretty cool prizes.
Kids will also enjoy Bangkok's Independence Day Picnic as there will be games like tug 'o' war, the water balloon toss, sack races and an egg toss, as well as Mattel Land to play in and enjoy.
And, if part of the fun of the 4th of July is food, then you will not be disappointed.
Restaurants like Sunrise Tacos, SO Sofitel Bangkok, Hooters, Captain Hook Smoke, Dairy Queen and Roadhouse Barbecue will be serving a whole host of American delights including burgers, hot dogs and pie.
Wash it down with a Jack Daniel's, a Coke, or a Singham beer. Or, if coffee is more your speed, Coffee WORKS can provide that too.
Bangkok's Independence Day Picnic will take place on July 1st (yep, three days early) starting at noon and will run through until 7:30pm.
Tickets are 200 baht if you buy them in advance at either the AMCHAM office or at one of their events. If not, you will pay 300 baht at the gate. Kids under 12 are admitted free.
You will find the AMCHAM Independence Day Picnic at Bangkok Patana School, 643 La Salle Road (Sukhumvit 105), BTS Bearing.
Check out the map below for more information if you are driving. Otherwise, take the BTS. It's faster, easier and better for the environment.