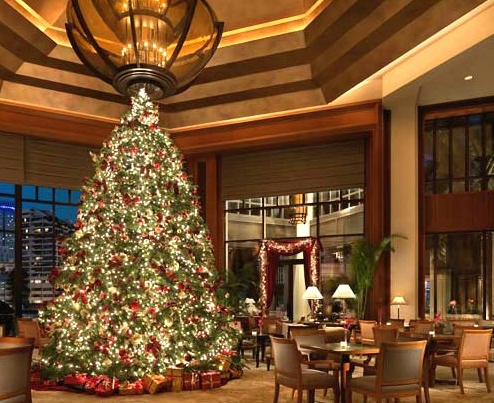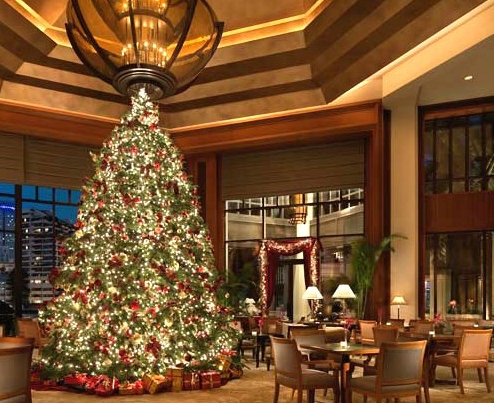 If you're looking for some fun things to do as part of your Christmas festivities in Bangkok, Thailand, you must head to the upscale Peninsula Hotel sometime during the next 10 days. The Peninsula has a variety of fun Christmas festivities planned that you really should not miss.
Trees of Hope – runs until December 25th, 2012
The Peninsula Hotel is supporting the Bangk ok chapter of the Make-A-Wish Foundation this year, and is asking guests to buy Christmas ornaments to display on the hotel's special 'Trees of Hope' Christmas trees. Each Christmas ornament, which you can choose in one of three lovely colors, is only 200 baht and all proceeds from the sale of them will go directly to Make a Wish.
Teddy Bear Afternoon Tea – Sunday, December 16th, 2012
You've heard of the Teddy Bear's Picnic? Well this is the Teddy Bear Afternoon Tea, which will take place at The Peninsula Hotel in Bangkok tomorrow afternoon. Guests are asked to please bring along their favorite teddy bear and, once there, the guest (and the bear if he likes) will sample pastries, chocolates and sweets.
The price per person (teddy goes free) is 1,200 baht, the proceeds from which will be donated to UNICEF for their Christmas fund.
Christmas Eve Gala Buffet Dinner – December 24th, 2012
If you like to celebrate Christmas on Christmas Eve, the Peninsula Hotel has one of the most elegant ways of doing it.  The Peninsula Lawn and River Cafe and Terrace will have a Christmas Eve Gala Buffet Dinner beginning at 7pm and featuring not only some of the most incredible food in Bangkok, but also an 11-piece orchestra and a variety of traditional Thai dance performances to entertain you. The price is 4,990 baht per person.
What better way to celebrate Christmas in Bangkok than in beautiful and festive surroundings at the luxurious Peninsula.
Christmas Day Buffet Brunch – December 25th, 2012
Buffet brunch at The Peninsula is a wonderful way to celebrate your Christmas Day as you can take the whole family, eat in stunning surroundings and enjoy an amazing variety of Thai and western foods.
The Peninsula's Christmas Day Buffet Brunch begins service at 12:3pm and accepts new arrivals until just a few minutes before 4pm. The price per person is 3,000 baht for adults and 1,500 baht for any children in your party. For the variety and quality of the food and, of course, the gorgeous presentation and surroundings, it's actually an extremely expensive meal.
Of course, as The Peninsula Hotel in Bangkok is one of the most popular places to celebrate Christmas in Bangkok, you will need to make reservations for every event. You can call the hotel at +662 861 2888/+662 652 1700 and you can also download a wonderful holiday brochure that goes into a lot more detail about each Christmas festivity at The Peninsula on the hotel's website before you make a reservation.