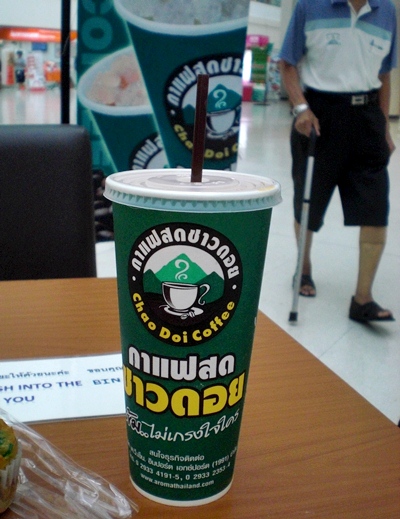 I think I must walk around half-dazed in Bangkok sometimes as, until a few weeks ago, I'd never noticed nor heard of Choi Doi Coffee. Then, a Thai friend insisted I try it as, being a coffee addict, she knew I'd probably love it. Fast forward a few weeks and, not only have I now heard of Chao Doi, I've drunk their coffee or tea drinks a dozen times or more. Why? Because both their coffee and tea drinks are cheap as well as extremely tasty.
If you're looking for Chao Doi Coffee, depending on the area of Bangkok you're in, you should find a coffee stall or a coffee shop quite easily as they are a company that's expanding quickly.
I've seen Chao Doi coffee stalls at Fortune Town Mall (next to the entrance to Tesco Lotus), at The Mall Bangkapi and at the Big C supermarket on Ratchadapisek Road relatively close to the Phra Ram 9 MRT station. That coffee stall is located in the Big C food court on the ground floor. There's also one at the massive immigration building at Chang Wattana Road. The staff manning it is lovely too. With several hundred stalls around Bangkok, though, you shouldn't be too hard pressed to find one.
If you're looking for a Chao Doi coffee shop, there's a large one at Mo Chit BTS sky train station and another at The Mall Ngam Wong Wan, as well as a myriad more at local Bangkok malls.
As for prices, you don't get much cheaper than at a Chao Doi coffee stall. A Thai iced tea (cha yen) is 35 baht (approximately $1.20) and it's a large size, and most coffee, chocolate and tea-related drinks are around the same price. They also serve lemonade, green tea and soda-based drinks.
For a business franchise, you probably can't beat Chao Doi Coffee either as Thais seem to really like this brand. You can find out more about buying a franchise at the Chao Doi franchise webpage although, if you don't read Thai, you'll have to get a Thai friend to help you translate.
Personally, I'm not too surprised Chao Doi Coffee is doing so well. It's a Thai brand, and it's owned by the Aroma Coffee Group. They are the same people who also run my most favorite-ever Thai brand coffee shops, 94 Coffee. So, yes, they know their stuff.