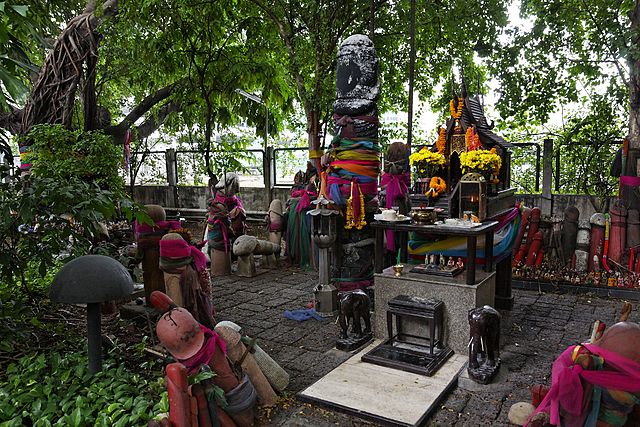 One of the most fun places to visit in Bangkok is the Chao Mae Tuptim Shrine, otherwise known as the 'Penis Shrine'. Chao Tuptim is the spirit who has been inhabiting the banyan tree next to the current shrine for hundreds of years, and who thousands of people a year come to pay homage to, leave gifts and pray to for wealth or fertility.
But, why is it called the Penis Shrine?
Because, years ago, a woman who prayed for a baby finally got one. In gratitude, she brought a large wooden penis back to the shrine and left it as a gift for Chao Tuptim.
Fast forward years later and hundreds of colorful wooden penises now sit hammered into the earth and laid on the ground, all around Chao Tuptim's shrine. All are from grateful women who got the children they asked for, or from men who got the money.
The Chao Mae Tuptim shrine is in Nai Lert Park, next to the Nai Lert Park Hotel. Ask directions from Chidlom sky train station. It is just a five-minute walk from there.
Chao Mae Tuptim shrine (penis shrine) photo – copyright Wikimedia Commons/Ddalbiez