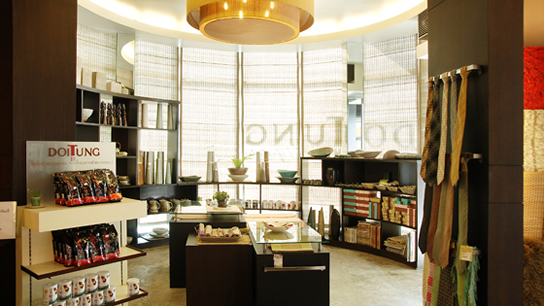 Where to find charity shops in Bangkok, Thailand
Bangkok, Thailand has some wonderfully unusual charity shops and, with buying at non-profit shops all over Bangkok now the rage, more and more are popping up all the time. If you get an extra thrill from shopping in a store where your money will go to help others less fortunate than you, then the next time you're in Bangkok don't miss buying unique items at the city's best charity shops.
Doi Tung – Doi Tung is a chain of charity shops operated by the Mae Fah Luang Foundation. Mae Fah Luang is a project set up by the Thai royal family that works with low-income villagers, who used to be involved in growing drug crops, and teaches them how to create beautiful Thai handicrafts. These handicrafts are then sold in the Doi Tung stores.
You'll find shawls, hand made paper, covered boxes, jewelry, pottery, key chains, cell phone covers, silk clothing, umbrellas, slippers, curtains, rugs, pillow cases and more.Prices are reasonable and the quality is gorgeous. Doi Tung has shops at Suan Lum Night Bazaar, Bon Marche market and Siam Discovery Center.
Some are also attached to Doi Tung cafes (which sell wonderful coffee drinks and snacks), like the branch at Chatuchak Market or the one at Impact.
Cabbages and Condoms – Another lovely non-profit shop is the Cabbages and Condoms shop, part of the Cabbages and Condoms restaurant on Sukhumvit Soi 12. Owned by a man named Meechai Viravaidya, who is credited with drastically reducing Thailand's AIDS/HIV rate because of his promotion of free condom distribution, Cabbages and Condoms' proceeds go to run the Population and Community Development Association (PDA). The PDA helps poor women with family planning and access to safe abortions.
At the Cabbages and Condoms charity shop, you can buy Thai handicrafts such as Thai silk scarves, hand made candles, stationary, books, wooden bowls, hand carved Buddha statues and pottery. The shop is large and beautifully designed and, after you've been shopping, you can enjoy a delicious meal at the Cabbages and Condoms restaurant right next door.
Chitralada – Chitralada is the name of the King of Thailand's palace. It's also a line of charity shops set up by the Queen of Thailand to benefit poor rural villagers all over Thailand. Like Doi Tung, villagers produce stunning Thai handicrafts, which are then sold at various Chitralada shops all over Bangkok.
Some of the most beautiful items are Thai silk elephants, handbags, basket ware, toys, pillows, rugs, scarves and shawls, pottery, childrens' toys and traditional wooden puzzles.
Prices are slightly more expensive than other stores, but the quality is superb and you'll find many items here you won't see anywhere else in Thailand.
One of the most beautiful Chitralada shops is on the grounds of the Grand Palace, to the right of the main gate. There's also one at Vimanmek Palace (the world's largest teak building) and one in the actual grounds of Chitralada Palace. If you want to visit this branch, you must be dressed appropriately as you're entering royal property and you will be asked for your ID at the gate.