Chatuchak Flower and Plant Market is the best place to buy flowers and plants in Bangkok, Thailand.
The Chatuchak Flower and Plant Market only operates on Wednesdays and Thursdays and, although on the same site as the Chatuchak Weekend Market, should not be confused with it. If you are looking for inexpensive and beautiful flowers or plants, then the weekly Chatuchak Flower and Plant Market is the place to shop.
Where is Chatuchak Flower and Plant Market? – The weekly flower and plant market is held at the same place as the world-famous Chatuchak Weekend Market but, where the weekend market is 15,000 stalls all over the enormous market grounds, the flower and plant market is confined to the inner ring road that circles Chatuchak.
But, with several hundred stalls, there are still many places to shop for those flowers or that plant you really want.
You can get to Chatuchak Flower and Plant Market by taking the sky train to Mo Chit sky train station, and then walking back in the direction the train came from. Two blocks down, you'll see the main entrance to Chatuchak on your right hand side.
When is Chatuchak Flower and Plant Market Open? – Bangkok's Chatuchak Flower and Plant Market is open every Wednesday and Thursday from 6am to 6pm. However, canny Thais will often go on Tuesday evenings after midnight, when the flower sellers are setting up their stalls, as then is the time to get the best flowers and the best deals.
One of my Thai friends and her brother set off for the flower market early on a Wednesday morning around 1am and, by 2am, she had all the flowers ordered for her upcoming wedding at a fraction of the cost of a Bangkok florist.
What Can You Buy at Chatuchak Flower and Plant Market? – Pretty much anything any gardener or flower or plant lover could want. Flowers, fruit trees, ornamental plants, bamboo, roses, jasmine, cacti and lots more. You can also get fertilizer, gardening tools, gardening gloves, plant pots, and other gardening supplies.
Almost everything at the flower and plant market is brought into Bangkok by farmers from surrounding Thai provinces, so you will find prices very cheap here as you are usually buying direct from the grower.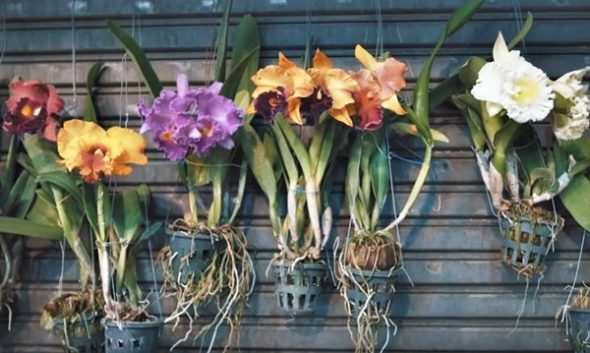 You can also get snacks and drinks here as, just like anywhere else in Thailand, the Thais don't go anywhere without being able to eat and drink copious amounts of food.
What Are Prices Like at Chatuchak Flower and Plant Market? – Prices start as low as 15 baht (45 cents) for cut flowers and go up to a few hundred baht ($10) or more for the rare plants. Most prices for plants though fall in the 30-100 baht range (95 cents to $3.10) and that's for a plant already in the pot.
Are the Other Chatuchak Stalls Open? – Yes, it's not all plants and flowers. Some of the shops from the Chatuchak Weekend Market are also open on Wednesdays and Thursdays as they are open all week. These include some of the furniture and handicraft stores, but even some clothing and shoe stores are also open.
Related: The best banana pancakes in Thailand are at Chatuchak Weekend Market — they're sooooo good
You just need to walk around the market to discover which stores are open that day.
Chatuchak Flower and Plant Market is not only a great place to buy plants and gardening accessories, it is also a wonderful place to experience real Thai culture, as most shoppers here are Thai and not tourists.
Plus, for a photographer, it's a great place to take photos too.