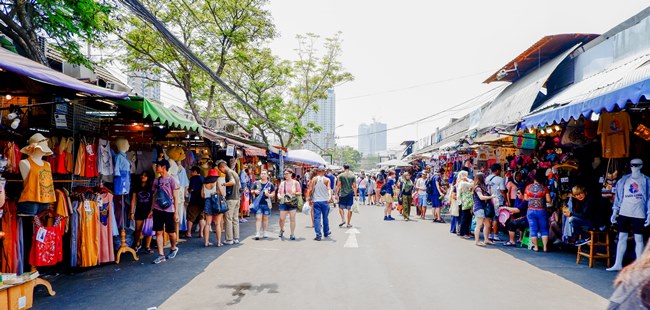 As Thailand's economy continues to struggle, and more than 50% of businesses in some areas of the country are now closed permanently due to Covid-19 restrictions, the Bangkok Metropolitan Administration (BMA) has announced Chatuchak Market will be closed from today until July 29th.
That means the more than 15,000 stalls that are open on any given weekend in normal times are mandated to remain closed for at least the next two weeks.
With up to 40 million tourists banned from Thailand, however, and with many Thais avoiding the market due to fear of being infected by Covid-19, Chatuchak stall owners have been suffering economically for over a year already.
Some stalls have closed permanently, while others have decided to put off re-opening until the Covid-19 situation in Thailand improves.
Meanwhile, the BMA cited many stall owners having to travel from other provinces being the reason Chatuchak Market will be closed for at least the next two weeks, as they feel it is not 'safe'.
Particularly as many infected people have no symptoms at all.
As Covid-19 cases rise or fall in the next two weeks, the situation will be reassessed and a Chatuchak opening date announced.