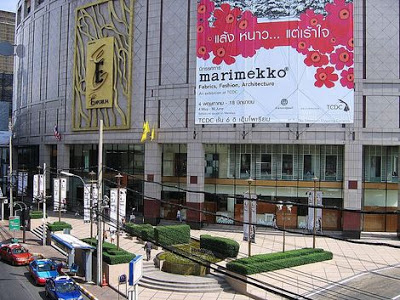 One of the oldest malls in Bangkok, Thailand is Emporium Mall. Located next to Phrom Phong sky train station, Emporium Mall is popular with locals and visitors, which is why it has many cafes and restaurants. The wonderful thing about Emporium though is, even though it's an upscale mall with designer stores, it also houses some excellent cheap restaurants.
So, if you prefer to eat an affordable meal in nice surroundings, don't miss checking out these three cheap Emporium restaurants.
Au Bon Pain – A cheap restaurant in Emporium Mall is the Au Bon Pain on the first floor. Au Bon Pain is an American chain restaurant that serves wonderful sandwiches, salads, wraps, cookies, pastries and cakes. It's a popular hangout for Thai business people and expats, as well as tourists, as it has a lovely atmosphere but is casual and relaxed.
The Au Bon Pain at Emporium is even nicer than others in the chain with its floor to ceiling windows overlooking Benjasiri Park. For a sandwich or salad, cake and a coffee, expect to get away with spending around 200 baht ($6). A cheap price for top-quality Western-style food.
Emporium Food Court – Although smaller than other Bangkok mall food courts, Emporium's food court is not only a fabulous place to get a tasty, cheap meal, it's also a fun way to experience Thai life as the customers here are mostly Thai.
The food court is tucked away on the fifth floor (look for the unobtrusive signs carefully, as I couldn't find it the first time I visited the mall) near a mass of restaurants, and consists of around 20 small food stalls serving everything from noodles, pork and chicken dishes, curries, spicy Thai salads, Korean rice and noodle dishes, Japanese cuisine, and various authentic Thai desserts.
You can sample food from several stalls, giving you a good taste of local cuisine for an inexpensive price. I usually spend 150-175 baht ($5.00-$5.90) per visit, and that buys me an entree, a dessert, and a soft drink or a coffee.
Kalpapruek on First – Kalpapruek is a Thai restaurant serving traditional and modern Thai food and a mix of Italian dishes, and is located on the first floor of the mall. Kalpapruek is particularly popular with Thais,
so that tells you right away the food is good.
At Kalpapruek, you must try the spicy catfish salad, one of their spaghetti dishes, a roti with pork curry, or the crispy duck salad. Kalpapruek also has a decent variety of desserts including a good selection of pies. The apple pie with ice cream is excellent and, if they have the lemon meringue pie, don't miss it.
Prices are cheap (less than 200 baht or $6 for a meal) and the service is always excellent.
Fifth Floor Restaurant Area – Also on the fifth floor of Emporium, you will find Emporium's main restaurant area.
With many restaurants to choose from serving Thai, Indian, Chinese, American, Japanese, Korean, European etc. you will find several of these restaurants serving food around the 150-200 baht ($5.00-$6.50) range, and the food really is excellent.