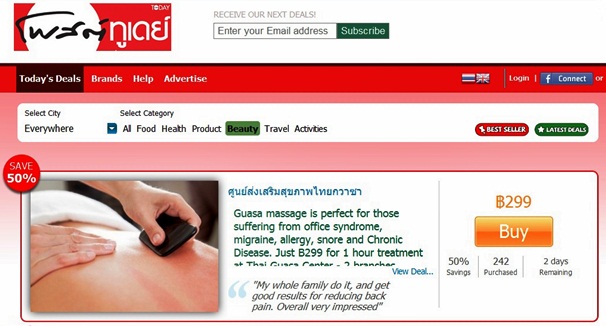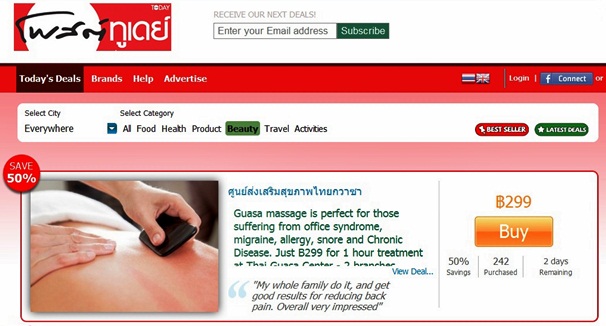 Getting cheap spa packages in Bangkok, Thailand is easy
If you're looking for cheap spa packages in Bangkok, Thailand, the first place you should be looking is at Today Guide Deals.
Today Guide Deals is a relatively new online company that's offering special deals on cheap spa packages in Bangkok, and all ordered from the comfort of your own home. That means you can even buy a spa package before you ever set foot in Thailand. How convenient is that?
How to buy cheap spa packages in Bangkok
All you do to find a spa package or a beauty treatment you want at a Bangkok spa is to browse the listings for that days 'deals' on Today Guide Deals. Deals like an hour's massage for 299 baht ($10.25), an aromatherapy treatment, a fish spa body scrub and more (6 treatments in all) for just 319 baht ($10.80) or a Botox treatment anywhere on the body for 5,550 baht ($200).
Once you've found a cheap spa package in Bangkok that  you'd like, or a beauty treatment you'd love to try, just click on the 'Buy' button.
As long as a pre-set number of people purchase the same package before the deal expires, the deal goes live and your credit card is charged. Then you download your coupon or save it to your iPad or smartphone, and make an appointment to get the treatment done. It's as simple as that.
Plus, with new merchants signing up for Today Guide Deals every day, the choices for cheap spa packages in Thailand are just going to get more interesting.
Don't forget, though, you do need to check out Today Guide Deals often, as they post new 'deals' every day. That's why you should make sure you subscribe to their e-mail mailing list. You wouldn't want to miss out on an amazing spa treatment or an inexpensive beauty package, now would you?