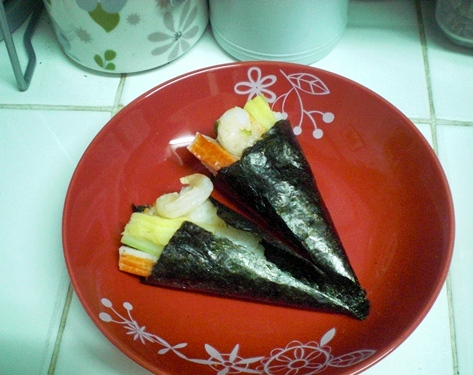 Before I start going on about cheap sushi for just over a dollar in Bangkok, Thailand, don't go thinking I buy all my food at the supermarket in Bangkok and never eat out at street stalls or restaurants. Nothing could be further from the truth.
But, I do buy five or six ready-made fresh meals at the Bangkok Tesco Lotus supermarket near my house every week (and by 'fresh' I mean those made on the premises by the Thai employees who work there — and not the 'frozen ready-meals' loaded with preservatives and other junk). and sushi is occasionally one of them.
I buy it because it's cheap, it's convenient to have in the fridge if I don't feel like going out and, frankly, for the price this type of cheap sushi is pretty tasty.
Take my cheap sushi for just over a dollar that I just ate for dinner for instance. I grabbed it at Tesco Lotus on Pahonyothin Road today while I was doing my weekly shop, as I knew I was too tired to go out tonight.
For 39 baht, which is $1.32 at the current exchange rate, I got two large sushi rolls that had a mix of shrimp and fake crab (it's the fish that looks like crab, and not the real thing — but still tasty enough as it's very fresh), a few crunchy fresh veggies and some white rice rolled in two big pieces of seaweed.
All Tesco's sushi is made on the premises that day and they come with little packets of wasabi and soy sauce as well, so it's a complete meal. Plus, all the ingredients are even packaged in separate pieces of plastic, meaning you put it together when you get home so it hasn't gone all soggy by the time you're ready to eat it.
39 baht or $1.32, for two shrimp and crab sushi rolls! Really, you can't beat it. Plus, even if there isn't a Tesco Lotus in your area of Bangkok, Big C, Villa, and Tops supermarkets sell pretty much the same thing for a similar price.
By the way, while we're on the subject of cheap food from Tesco Lotus in Bangkok, check out the delicious, and cheap, Pad Gra Pao Muu I buy there as well.
Or, if you don't mind paying a bob or two for sushi in Bangkok, you should eat at Edoya, Bangkok's 30-year old sushi restaurant — it's superb