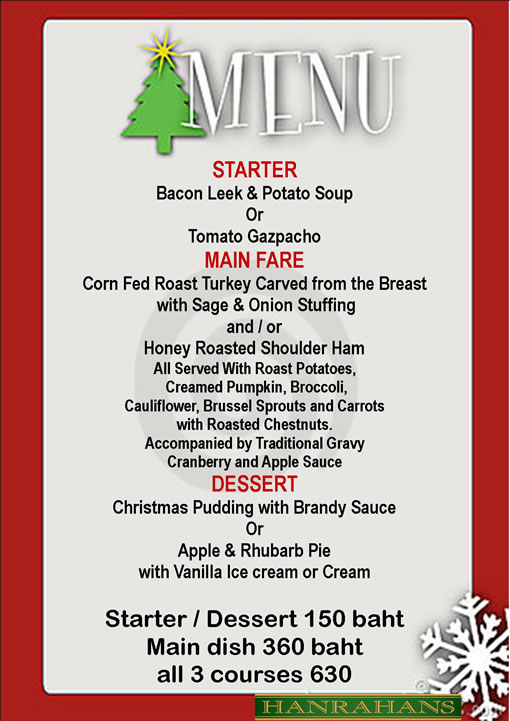 Where can you find the cheapest (and best) Christmas dinner in Bangkok?
When I first moved to Thailand, I wondered why Hanrahans Irish Pub in Bangkok was always absolutely packed with farangs (westerners) enjoying their Christmas dinner the first two Christmases I spent in Bangkok. Then it dawned on me. Not only does Hanrahans Irish Pub serve an excellent Christmas dinner (yes, I ate there one year, and it's lovely), they also serve one of the cheapest Christmas dinners in Bangkok — with three courses, no less.
That's why, if you are looking for the cheapest Christmas dinner in Bangkok, look no further than Hanrahans pub on Sukhumvit Soi 4. 630 baht, or $19.25, gets you a fabulous three-course lunch or dinner.
The menu looks like this:
Bacon, Leek and Potato Soup or Tomato Gazpacho

Roast Turkey Breast with Sage and Onion Stuffing and/or Honey Baked Ham with all the trimmings

Christmas Pudding with Brandy Sauce or Apple and Rhubarb Pie with Ice Cream or Cream
Now that's what I call a pretty spectacular Christmas dinner, and at a very inexpensive price. It's no wonder Hanrahans has been known as the best Irish pub in Bangkok for years.
By the way, if a full Christmas dinner isn't something you think you can handle, don't miss out on the Christmas spirit and fun. You can also choose to eat just the starter or just the dessert. It's entirely up to you.
As for booking the cheapest Christmas dinner in Bangkok at Hanrahans, call them at 02-255-0644 and make a reservation before someone beats you to it. You'll find them just a few meters away from the Nana BTS skytrain station.