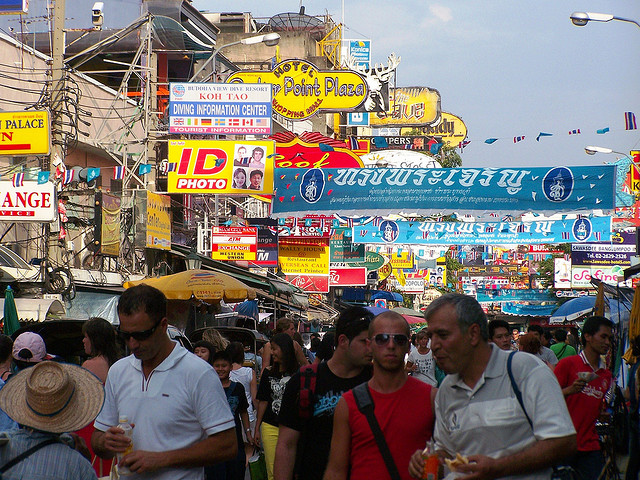 The Banglamphu area in Bangkok, Thailand is known as being the home of the famous backpacker street, Khao San Road. But, get away from Khao San Road, and Banglamphu has a lot more to offer, particularly when it comes to cheap shopping. On your next trip to Banglamphu, sure, head to Khao San Road, but don't miss these cheap shopping venues too.
Khao San Road Used Book Stores – Banglamphu wouldn't be complete without the backpacker mecca and, even though it's targeted to tourists, it's still possible to find cheap bargains here. The best places to shop on Khao San Road include the used bookstores, where you can buy thousands of paperback and hardback books in English, French, German, Spanish, Japanese and Chinese for between 100-150 baht ($3.30-$4.95). Also check out market stalls on Khao San itself for books, DVDs and CDs. Otherwise, avoid the rest of the junk (it's cheaper elsewhere) and head to the real cheap places to shop.
Khao San Road Silver Shops – There's a plethora of silver shops on Khao San Road and on other roads just branching off from it, making the Banglamphu area of Bangkok one of the most visited places by silver merchants. The secret here is to buy in bulk and bargain. But if you know anything about silver, so you don't get taken, you can find some surprisingly inexpensive deals.
Talad Banglamphu (Banglamphu Market) – North of Khao San Road, Banglamphu Market is the best place in the area to buy cheap clothing, and it's packed with Thai shoppers, so you know it's good.
Look for jeans, cute or funny t shirts, wrap-around skirts, and khakis, as well as a good selection of shoes. Don't miss the second-hand clothing stalls too. Prices are dirt cheap, and you may be surprised what you'll find — unique band t shirts, cool vintage shirts, and funky jackets, are just some of the items on offer. Food stalls here serve tasty Thai food, and internet cafes are reliable and cheap.
Tha Chang Amulet Market – One of Bangkok's most famous Buddhist amulet markets, if you're interested in the Buddhist religion or just enjoy picking up unique and interesting things on your trips, you'll love shopping at Tha Chang Amulet Market.
A purely local market, with few tourists actually buying, although many look, the amulet market sells Buddhist paraphernalia, including Buddha statues, Buddha amulets, amulets of famous Thai monks, and even 'palad khik', the Thai penis amulets made from carved bone or wood. Palad khik are worn by Thai men to bring them good luck. They're usually worn dangling from a rope around their waists, but worn inside their clothing and not out. Of course, you'd expect them to be lucky in love, and they're supposed to be, but they're even bought as protection from knives and to give them a win in gambling.
The wonderful thing about shopping at Tha Chang Amulet Market is not only the fascinating items, but the atmosphere, which is absolutely authentic Thai. Plus, with amulets for all pocketboooks, you can buy a lucky talisman here for just a couple of dollars, up to tens of thousands (dollars, not baht) for the unusual or famous ones. Of course, many of the cheaper items are imitations or forgeries, but for a few dollars, and for the experience of shopping here, it's still worth it.