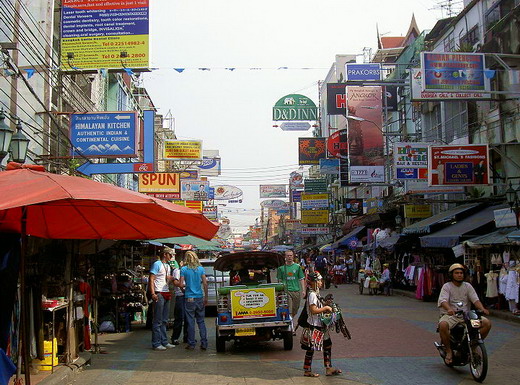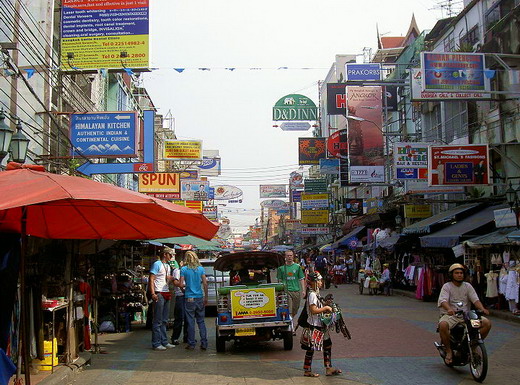 Many tourists and travelers in Bangkok, Thailand head to Khao San Road as their first stop. The world-famous hippie destination, years ago, Khao San Road used to be cheap for shopping. But, in recent times, it's become quite expensive. That's why, if you're planning on exploring Khao San Road and want to do some shopping, you need to know where the best cheap places are, and what not to buy, and then you won't be ripped off.
Khao San Road Street Stalls – Be careful shopping at the street stalls and tiny shops next to them on Khao San Road itself, as many of them are far more expensive than most other places in Bangkok. Don't forget, most people who go to Khao San Road are tourists, so prices have risen accordingly.
For DVDs, never pay more than 80 baht per disc, and for CDs 80-100 baht should be the norm. For items like fisherman pants and t shirts, unless you're only paying 130 baht for the pants, and 150 baht or less for the t shirts, don't bother — you can buy them far cheaper at Chatuchak Market, Pratunam Market and Bobae. Of course, some unscrupulous merchants will try to tell you what they're selling is "unique". It's not. Half of Thailand sells it.
Wholesale Silver Stores – There are a slew of wholesale silver stores on Khao San Road and in the alleys and streets around it. You can get excellent bargains here if you're buying in large quantities but, before you shop, educate yourself on what a typical price in your home country for wholesale would be, then expect to pay far less. Bargain hard too. Khao San Road is known for its scams, and even the wholesale silver sellers aren't immune to running them.
Second-hand Book Shops – Being the backpacker and hippie heaven it is, you'd expect to find a lot of second-hand book shops here, and you will. Even some of the market stalls sell used books. Again, be aware how much you're spending, as some of the stores try to overcharge.
The best deals are found if you exchange books you're finished with for other used books, as you'll usually get a fairer price in exchange. But, never pay more than 150 baht for a used book — it's not necessary, as there are several used book stores near Emporium Mall on Sukhumvit that have better prices, and books in better condition.
Henna Tattoos and Dreadlocks/Hair Extensions – If you want to get a henna tattoo or have your hair done in dreads, or get hair extensions, of course, Khao San Road is the place and you'll find some of the cheapest pricees here as so many people will do it for you. Compare prices at street vendors and small stores before you choose one though, as you'll find prices will vary and you can bargain.
Shopping for Cheap Flights and Tours – Khao San Road has a plethora of cheap travel agents who can book everything from cheap flights around Thailand or out of the country, to day trips in Bangkok, buses to Phuket, Hua Hin and Chiang Mai and just about everything else. Like everywhere on Khao San Road, comparison shop before you buy, but you can get some great deals on your travel needs here.
Finally, it's all very well talking about the cheapest places to shop on Khao San Road, but what if you don't know how to get there? Read How to Get to Khao San Road for details about boats, trains, buses and tuk-tuks and that will probably hellp.