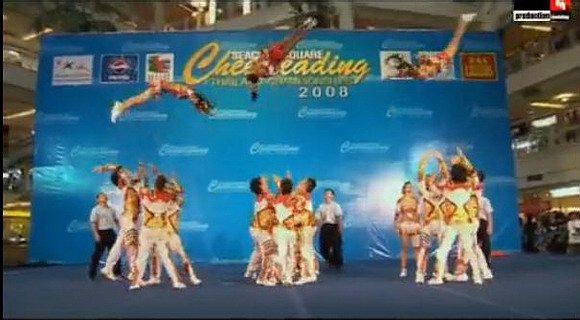 It's not surprising Thailand is so good at cheerleading. School spirit is instilled into Thai kids from the minute they arrive there when they're five, and with following orders, always being happy, and being part of a team so important in Thai culture, Thais are naturals as cheerleaders.
That's why, when Bangkok University won the silver medal at the 2011 ICU World Championships with a world-class cheerleading performance, some were only surprised they weren't awarded the gold.
Apparently, Bangkok University were also the crowd favorites to win the cheerleading competition, with some accusing the judges of marking them down. But, others said, if they just improved their tumbling routines, they'd be a shoe-in for next year's ICU World Championships.
Let's hope so. They're amazing.
Here is Bangkok University at the ICU World Championships in 2011, with a second video showing them performing at Seacon Square in Bangkok.