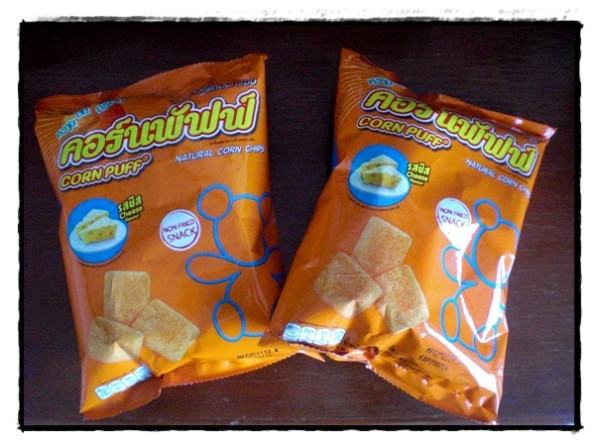 Grab a bag of Cornpuff Natural Corn Chips – cheese flavor – they're delicious
If you're looking for a quick yet tasty Thai snack the next time you're at a 7-11 or supermarket in Bangkok, Thailand, you might want to grab a bag of Cornpuff Natural Corn Chips – cheese flavored, of course. Just 10 baht, or 32 cents, a bag, Cheese Cornpuff Natural Corn Chips are light and crunchy yet melt in your mouth, and are a great way to stave off hunger pangs.
Normally, I don't eat a lot of snack foods as they tend to be high in calories. I do occasionally grab a bag of cheese-flavored Cornpuff Natural Corn Chips, though, as each bag only has 190 calories because they're not fried like most chip-style snacks, so I don't feel too guilty if I eat an occasional one.
They're also nice with a sandwich as a quick lunch, if I forget to buy fruit, as they're not oily like potato chips and other potato snacks tend to be.
Don't expect natural corn chips like you'd get in the US or Europe, however, as these aren't really like a traditional 'chip' at all — meaning you wouldn't eat them with salsa. Instead, they're more of a 'cheese puff', as they melt in your mouth as soon as you bite into them. Quite tasty really.
As for ingredients in the cheese-flavored Cornpuff Natural Corn Chips, they're made from corn grits, palm oil, rice and glucose powder, with no preservatives added. They're manufactured by Friendship Co. Ltd.
Of course, I'm not recommending you eat Cornpuff Natural Corn Chips every day of the week, as they are a processed snack. But, as an occasional bag when you're looking for a savory Thai snack, they're definitely a decent choice.
Plus, they're made by a Thai company instead of being just one more Frito-Lay invasion of the Thai snack market, and that makes them worth buying right there.