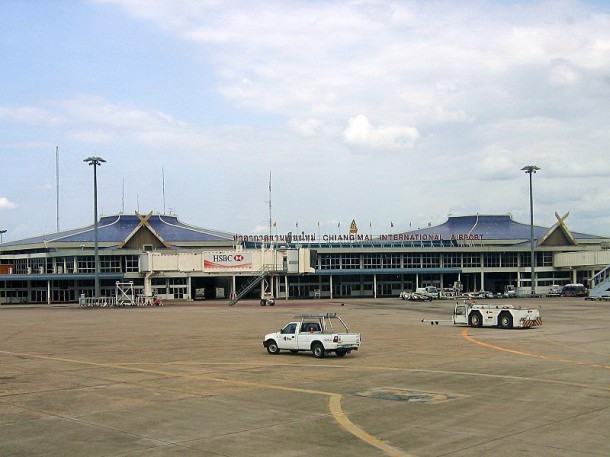 The first time I flew into Chiang Mai Airport nine years ago, I was surprised at how small it was. Even back then, Thailand's second busiest airport wasn't much more than a couple of stories, some restaurants and cafes, a few check-in desks and old-fashioned departure lounges. In almost a decade, and with a few renovations, it hasn't changed that much. What I do love about the place though is its friendly personnel and the ease with which you can travel in and out of it. I know what to expect here and I'm never disappointed. Once you've read this, you'll know too.
Location of Chiang Mai International Airport – Another wonderful thing about the airport is its proximity to the city of Chiang Mai. Most places in the downtown area are accessible from the airport in 15 minutes or less and I've never stayed at a hotel that was more than 10 minutes away. It's also quite pretty as you arrive, get a taxi and drive away from it. No massive motorways here, just small shops and cafes, a few fields and lots of traditional Thai neighborhoods.
Arrivals and Departures at Chiang Mai International Airport – There are around 150 flights a week come into Chiang Mai, not that many when you consider its Thailand's second largest airport. But, what that also means is arrivals and departures are a breeze.
Upon arrival, you'll walk down a short corridor but be at the luggage belt waiting for your bags within only a couple of minutes of getting off the plane. Airport baggage handlers are fast too. In fact, I've never waited more than 10 minutes to get my bag and always, between getting off the plane and getting in a taxi, no more than 15 minutes passes by. What other international airport can say that.
Departures too are easy. I think the longest line I've ever stood in had maybe eight people in it. A far cry from Bangkok's Suvarnabhumi Airport, where 100 people in front of you can be the norm. Check-in at Chiang Mai Airport takes no more than 10-15 minutes, baggage is taken off you quickly, weighed, labeled and you're on your way.
The only thing I would caution is, as Chiang Mai is now Air Asia's second hub, Air Asia check-in has become slower. I'm not a huge fan of Air Asia, as cheap as they are, and haven't always received the best service in Chiang Mai when flying with them. But that's the airlines fault and not the airport.
There is of course an International Terminal and a Domestic Terminal. The International Terminal is a little more modern than the domestic one with a few more stores and restaurants, including some duty-free shops. There's also a couple of banks.
Amenities at Chiang Mai International Airport – While not a huge amount of cafes, restaurants or stores to look around in either the International or Domestic departure terminals, there are several small coffee shops and cafes, serving basic Western food like muffins, cake, cookies, sandwiches, potato chips, soft drinks and coffee, as well as a couple of places that do Thai snacks. One of my favorite places, Puff and Pie – owned by Thai Airways – is here, and they serve excellent puff pastries, savories and cakes. There's also a Dairy Queen.
There's a small deli, which serves decent sandwiches, but I'd recommend, if you want a proper meal to eat before you leave for the airport. For night flights, I usually eat at the food court at Chiang Mai's Night Bazaar first, and then take a taxi to the airport.
Also a word of warning, if you're traveling on a night flight after around 8pm, once you go through to the departure lounge there is absolutely nothing. Nowhere to eat, nowhere to drink and just a small shop selling a few Thai souvenirs, so I recommend checking into the departure lounge at the absolute last minute. No use hanging around with nothing to do and nowhere to eat.
Travel Agents and Airline Desks – You can of course book flights at the airport if you get there and aren't booked on one. There are a couple of travel agents as well as airline desks for all the airlines that fly out of there, Air Asia, Thai Airways, Nok Air etc, and I've never seen much of a line at any of them. There's also a number of ATM machines if you need to withdraw money to pay for your ticket.
Medical Services – The last time I flew back from Chiang Mai, I was at the airport with a Thai friend who began to feel ill. We went to the First Aid Post only to find my friend tentatively diagnosed with chicken pox by the lovely nurse manning the post. She was extremely kind and helpful and even managed to get us on our flight, with my friend and I sitting at the front of the plane, her in a mask and both of us segregated by about six rows from the rest of the plane's passengers. Without the nurse's help and mediation with the pilot, we would never have made it on the plane.
Overall, Chiang Mai International Airport is a lovely airport to travel through. Friendly, not too busy and with such courteous and helpful staff it's a real pleasure to travel through here, particularly after arriving at Bangkok's Suvarnabhumi Airport, which has to be one of the worst and most unfriendly airports in Asia.