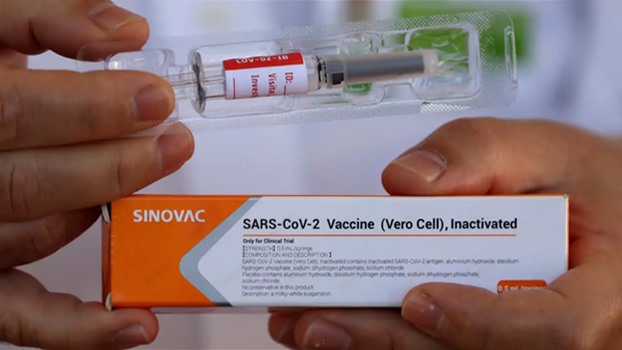 On Wednesday, Thailand's Centre for Covid-19 Situation Administration (CCSA) confirmed seven people suffered temporary palsy symptoms after receiving the Chinese Sinovac vaccine this week.
All seven recovered within 1-3 days.
A CCSA spokesperson confirmed the seven suffered partial paralysis and other symptoms including numbness and muscle weakness. Symptoms that would normally be seen in someone who had had a stroke.
The news first broke about the Sinovac vaccine causing temporary partial paralysis in some people when Dr Thiravat Hemachudha, director of the Health Science Centre of Emerging Diseases at Chulalongkorn University's faculty of medicine, posted on Facebook.
According to him, six of those suffering stroke-like symptoms were in Rayong, while another was in Queen Savang Vadhana Memorial Hospital in Chon Buri.
Of the six in Rayong, five were medical/health officials and one worked in a hospital. Their symptoms began less than 30 minutes after receiving the vaccine.
Vaccinations from the same batch of Sinovac vaccine that were given to the seven have also been used on 300,000 other people.
Prof Kulkanya Chokephaibulkit of the faculty of medicine Siriraj Hospital at Mahidol University said only seven cases of temporary partial paralysis had been confirmed from the batch.
Meanwhile, Prime Minister Prayut Chan-o-Cha has confirmed the government is in negotiations with American manufacturer Pfizer to buy between five and 10 million doses of their vaccine.
This will be in addition to the AstraZeneca and Sinovac vaccines already procured.
AstraZeneca has also had problems, with reported cases of blood clots and deaths in numerous countries. As a result, several European countries have either removed it from use or restricted its use to specific age groups.