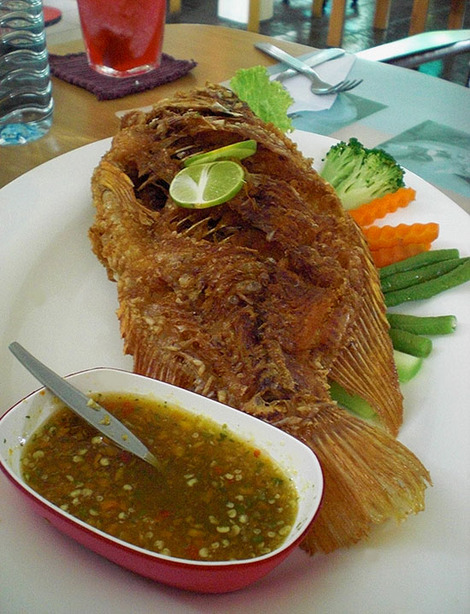 Chom Suan is a lovely independent restaurant in Bangkok, Thailand
One of the best kept secrets in Bangkok is the restaurant Chom Suan (which in Thai means, 'around the garden'). Chom Suan is owned by a famous Thai singer, Anchalee Jongkadeeki, but as it's tucked towards the end of a long soi (small lane), many people, including most Thais, haven't heard of it.
Chom Suan itself is lovely. It's located looking out over a garden, walled off from the soi and the traffic going by, so it's quiet. The restaurant is upstairs, over a small Christian church apparently started by Khun Jongkadeeki, and when you walk in the first thing you notice is how light and bright it is. The whole front of the restaurant is floor to ceiling windows, which give the restaurant such a pleasant air. Plus, Bangkok is always sunny, giving the restaurant a guarantee of great light.
The first time I ate at Chom Suan, the service was poor and spoiled the experience for me but, on subsequent visits, the service has been excellent which meant I could sit and concentrate on the food – and it's good. Serving typical Thai food, but using much more high-quality ingredients than a lot of other restaurants, Chom Suan has captured the market on superb Thai food in a pretty environment.
Some of my favorite foods are the fried fish (perfectly cooked, slightly spicy sauce and not oily), kale in oyster sauce and the fried vegetable rolls that come served with a spicy sauce. But, honestly, just about everything I've tried has been delicious.
Chom Suan is also great for those not used to typical Thai spicy, as most of their dishes are mild. The only two things I would say to avoid are the curry puffs (which surprisingly they're famous for yet every Thai I know hates them) and the Thai tacos – dry and just weird tasting.
Expect to pay about double what you'd pay at most other independently-owned Thai restaurants in Bangkok and about five times the price of a food stall. Well worth it, though, (except for the curry puffs).
Chom Suan is on Sukhumvit Soi 16 in Bangkok. Easy to get to from Asok BTS and a quick motorcycle taxi ride.