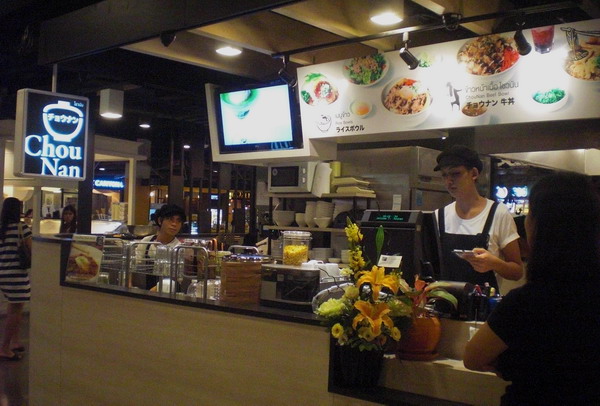 For the last six months Central Ladprao, one of Bangkok's largest shopping malls, was closed for renovations. It re-opened in September and, to my amazement, was absolutely full of restaurants it did not have before.
One of them is the traditional Japanese rice bowl restaurant, Chou Nan; a restaurant I had seen recently at Siam Paragon, their other branch, but hadn't eaten at. Yesterday I ate at Chou Nat at Central Ladprao and I will be eating there again tomorrow. It's really that good.
Where is Chou Nan? – There is a branch of Chou Nan at Siam Paragon mall, but the one I ate at yesterday with a Thai friend is on the fourth floor of Central Ladprao. You cannot miss it as, at the top of the escalators, bear right past the Ummm……Milk stall and you will see Chou Nan on your left hand side. It is open-plan, and very pretty.
Food at Chou Nan – The menu at Chou Nan is mainly Japanese rice bowls with different varieties of topping. There are beef bowls, beef and pork bowls, beef and pork bowls with mayonnaise (much more delicious than it sounds), chicken and egg bowls, teriyaki salmon bowls, and extra toppings you can add to your rice bowl. They also have an extensive menu of salads, appetizers and drinks, but the main focus is on the Japanese rice bowl.
When we arrived we figured out quickly, on top of the type of food we wanted, we also had to decide the size. Rice bowls come in small, medium and large. The small are 65 grams of food, the medium 100 grams, and the large is 130 grams.
My friend and I ordered the large size bowls but, by the time they'd piled on beef, an egg and some pickled vegetables, although I loved every bite, next time I'd just order the medium size. It's more than enough food for one.
We also ended up ordering the same dish, — a pork bowl with an onsen egg and a glass of iced green tea. The bowls arrived in minutes, steaming hot and with the onsen egg lying on the top. An onsen egg is similar to a slightly-cooked poached egg and all you do is slit the top so the yoke pours out then mix it all in with your rice and pork. The heat of the food cooks the egg the remainder of the way. And, boy, is it delicious.
The beef bowl at Chou Nan, in fact, was simply wonderful. Perfect white rice, topped with succulent beef (and there was a lot of beef) and some pickled vegetables. I added soy sauce and a little bit of chili pepper to mine and mixed it all in. Every mouthful was divine. Wash it down with a healthy glass of iced green tea (natural, no sugar) and you couldn't get a more perfect meal.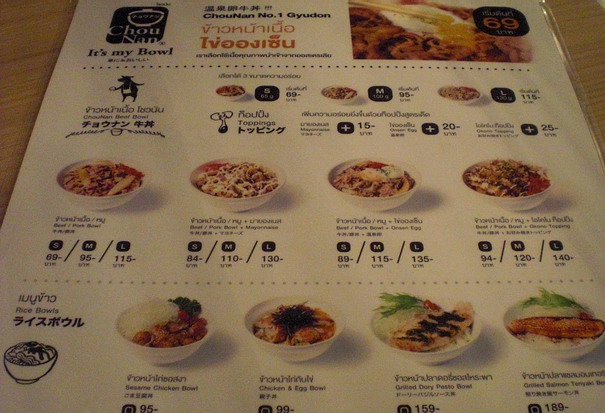 Prices at Chou Nan – The prices at Chou Nan are reasonable and, for the size of bowls we ordered, we thought quite cheap. Small bowls begin at just 69 baht ($2.23), a medium size is 95-110 baht ($2.97-$3.33) and the large bowl 110-135 baht ($3.33-$4.10).
The salmon bowl and a couple of others are slightly more expensive.
Our total bill came to 270 baht ($8.70) or $4.35 each, which for a huge bowl of rice with a meat topping and a large glass of fresh iced green tea, we thought was a good deal.
At Chou Nan, the staff is lovely and very friendly, the food is excellent and the location is interesting as, with it being open-plan, you can sit and watch people in all the other restaurants around you or just enjoy seeing the crowds walking by.
I enjoyed the food at Chou Nan and the atmosphere so much, it is already on my must-eat-there-several-times-a-month list. Try it. You may just find you end up doing the exact same thing.