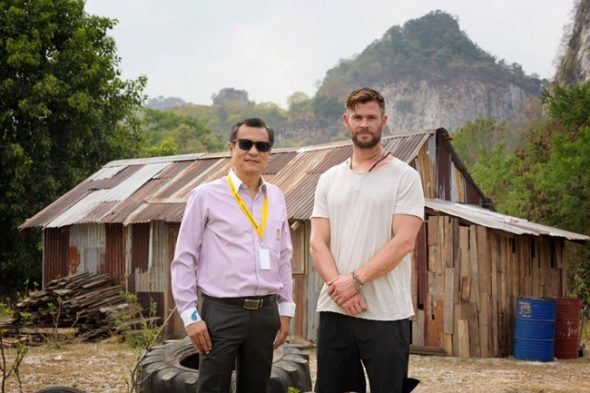 Australian actor Chris Hemsworth currently filming his new movie Dhaka in Thailand
Filming is taking place in Khao Ngu Stone Park in Ratchaburi province for the new movie Dhaka.
The film stars Australian actor Chris Hemsworth, and was brought to the Thai general public's attention when Ratchaburi governor Chaiwat Chuenkosum went to meet Hemsworth, and had his photograph taken with him.
The Thai governor then showed off his fanboying on his Facebook page, and talked about why he thought the movie was such a great thing for Ratchaburi tourism.
"I went to Khao Ngu the other day to meet Chris Hemsworth, the handsome, muscular actor from the Hollywood film about the lightning god Thor. The movie was allowed to be filmed here by the Tourism Authority of Thailand and the Ministry of Culture. I expect the movie to be worth 300 million baht or more, and that it will help promote Ratchaburi tourism," Mr. Chaiwat commented.
The photos Mr. Chaiwat posted on his Facebook page have since earned him 6,600 likes and more than 2,700 shares.
Why movies like Dhaka are important for Ratchaburi province
Of course, there are always the usual naysayers on Facebook. Some of whom criticized Mr. Chaiwat for being too enthusiastic about Chris Hemsworth in his rush to get up there to meet him.
Others complained he had mistakenly stated the Lord of the Rings trilogy was filmed in China's Zhangjiajie National Forest, when in reality it was filmed in New Zealand.
Regardless of whether all of Mr. Chaiwat's information about other blockbuster films was correct, it is pretty obvious his heart was in the right place. He also seemed genuinely happy to have met Chris Hemsworth.
Besides, part of the Ratchaburi governor's job is to promote his province after all.
That is exactly what he was doing when he showed photographs of Chris Hemsworth, the people he met on the film set and where the crew had set up at Khao Ngu Stone Park.
In other words, maybe say how nice it is that Dhaka is being filmed in Ratchaburi province rather than criticize Mr. Chaiwat?  As not only does the filming itself bring in money to the area, but it can also bring in more tourists.
All of which is beneficial to Ratchaburi and the people living there.
As for Dhaka, Chris Hemsworth stars in the movie and is also one of its producers.
Filming has also taken place in Bangkok and Phuket, and in India. The movie itself will be released on Netflix.