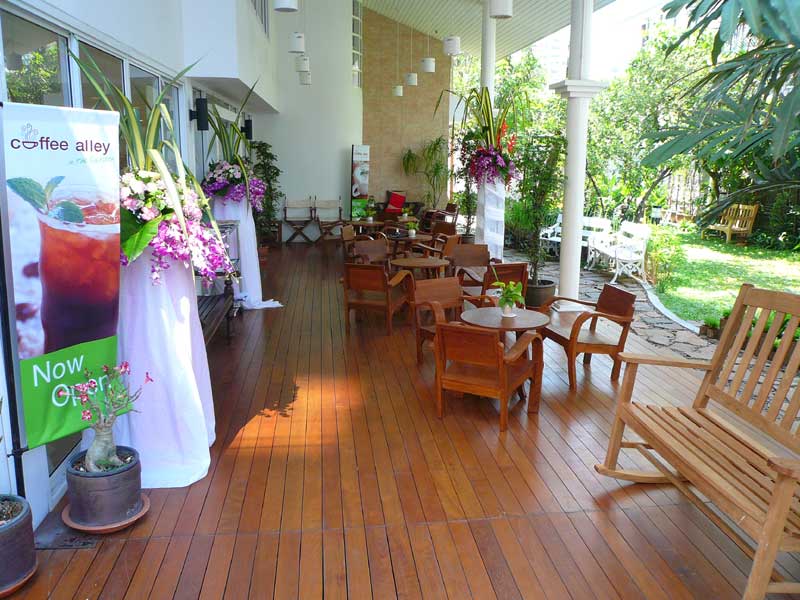 One of the cutest coffee houses in Bangkok, Thailand is Coffee Alley, an independent coffee shop located on one of the best and most popular sois in Bangkok — Sukhumvit Soi 16. Coffee Alley is popular with Thais and westerners and for lots of very good reasons. Serving some of the best, and most inexpensive, coffee drinks in the city and with a lovely atmosphere, Coffee Alley is a fabulous place to relax, hang out with friends or spend a couple of hours working on your laptop.
Coffee Alley Staff – I love going to Coffee Alley, simply because the staff is so friendly. From the minute you walk in, everyone is gracious and smiling, service is exceptionally fast and, unlike some other Bangkok coffee shops, at Coffee Alley you always get the drink you ordered. They also clean up quickly if you've ordered food and are finished with your plate, and do a wonderful job keeping the cafe looking clean and welcoming.
Coffee and Tea Drinks at Coffee Alley – The quality of coffee and tea drinks in Bangkok varies widely as does the price. So it's wonderful to find an independent coffee shop in Bangkok where the coffee and tea drinks are consistently delicious and the price is lower than chains like Starbucks or Coffee World.
I normally order cafe lattes or vanilla cafe lattes, but have also had Coffee Alley's iced lattes, iced mochas, iced green tea shakes and hot fruit teas. All the drinks have been excellent but what I really love the most is that every hot drink I order at Coffee Alley is just that – hot. In a city where 'hot' seems to mean nothing more than lukewarm at a many Bangkok coffee shops, I love being able to order a latte and not have to take it back to the counter with a request for it to be microwaved.
Food at Coffee Alley – Coffee Alley is more than your typical small coffee shop for not only do they do great coffee and tea drinks, but their food is good too. You can get a full breakfast served all day, sandwiches, (I love their grilled cheese), several Thai dishes as well as some scrumptious cakes and baked goods.
I do however try to avoid any of their chocolate cakes, as they're so delicious I end up buying two. Food arrives quickly and piping hot, and again, you always end up getting exactly what you ordered.
Atmosphere at Coffee Alley – Bangkok has some truly lovely coffee shops but I still think Coffee Alley is one of the cutest. The coffee shop itself only seats around 20 people as there are only six table to sit at (four small and two double tables), but there's a pretty garden area outside with seating for another 40 people or so.
The garden area is adorable too, with comfy chairs and a quiet yet hip atmosphere. Inside the cafe, the staff plays mellow music at a volume that doesn't deafen you, so it's also the perfect place to write or do other work.
Free Wi-Fi – Coffee Alley is popular with writers, students and office workers around the Sukhumvit area of Bangkok, and one reason is the free wi-fi. Many other Bangkok coffee shops charge for wi-fi so to find a coffee shop that not only doesn't but also has very fast wi-fi is special indeed.
Coffee Alley is currently my favorite independent coffee shop in Bangkok. It's cute, I can sit there for several hours without worrying about having to leave, and the drinks and food are good too.
Coffee Alley is located on Sukhumvit Soi 16, just off Rathchada, and they even have a yoga studio upstairs, so if you want to exercise after your coffee, you can do that too!