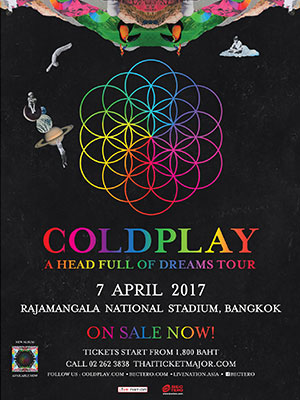 Iconic British band Coldplay heads to Bangkok in April where they will play a live concert at Rajamangala National Stadium as part of their A Head Full of Dreams tour. The Bangkok Coldplay concert will take place on 7th April, 2017.
Since last March, Coldplay's A Head Full of Dreams tour has played to over 2.7 million people. The album that the tour is promoting has sold over 5 million copies, and music videos of songs from the album have garnered over a billion views and counting.
Tickets for Bangkok's Coldplay concert start at 1,800 baht and go up to 6,500. There is a maximum of four tickets per purchase. You may want to grab tickets fast, however, as this band tends to sell out fast. You can do that at Thai Ticketmaster.
Meanwhile, watch the music video of Coldplay's massive hit single 'Up & Up' below, just so you can see what kind of treat you're in for.