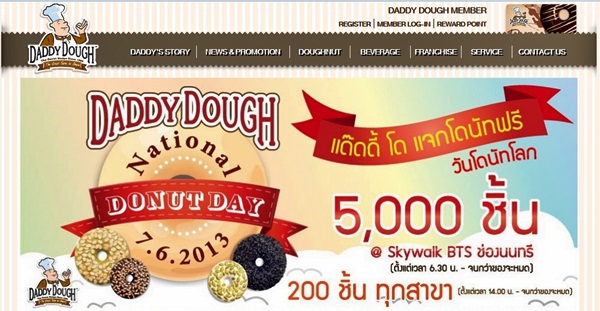 Daddy Dough Thailand is giving away free donuts
Don't forget to check out your local donut shop in Bangkok, Thailand on Friday, June 7th as it's National Donut Day and donut shops all over the city are celebrating. Daddy Dough in particular has an awesome National Donut Day celebration that's sure to delight any lover of the cake-like treat.
I was at my local Daddy Dough this morning with a Thai friend. Although I do like their donuts, Daddy Dough is not my favorite donut chain in Bangkok (I prefer Mister Donut) but I saw they were not only advertising National Donut Day on Friday but also reminding customers that all Daddy Dough branches will be giving away free donuts to celebrate. So I thought I should pass it on.
When does Daddy Dough free donut giveaway start?
The free donuts giveaway at Daddy Dough shops will start at 2pm, with 200 donuts being given away every hour. Daddy Dough will also be on the BTS skywalk at Chong Nonsi station starting at 6:30pm and will have 5,000 donuts to give away there.
My guess is, though, there will be absolutely humongous lines, as Thais love donuts so don't expect to get a free donut in an instant. You might have to wait a while, no matter where you go to try and grab one.
You can find out more about Daddy Dough and their donuts at their website. If you haven't tried them yet, now is a good time to try..