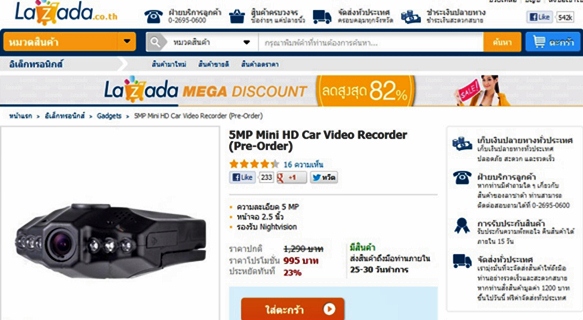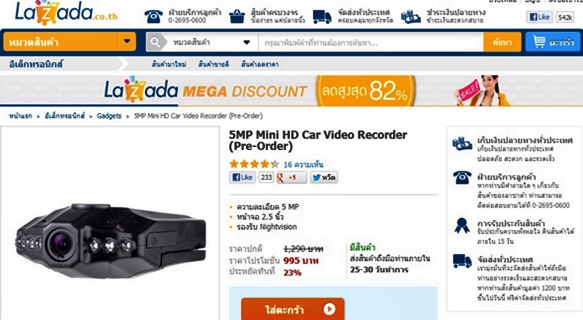 It seems every few months there's a new must-have gadget in Thailand. A gadget that, without it, people lived perfectly good lives but according to many has now has become a 'mandatory' buy. Just like anywhere else in the world, Thais are dictated to by the news media and social status, which means it's not surprising the latest must-have gadget in Thailand is a dashboard camera.
The dashboard camera in Thailand is a relatively new thing. Unlike Russia, where half the motorists seem to ride around with dashboard cameras, up until recently the dashboard camera in Thailand has been a rare item to find in a car.
In the last couple of months, however, I have friend after friend after friend in Thailand buying dashboard cameras and proudly showing me how they work every time I ride with them.
Dashboard cameras in Thailand are cheap (a camera that one friend bought was as cheap as 750 baht ($25.40), and he's ecstatic with how it works).  They're available to buy at IT and electronic shops and malls all over Thailand and install in seconds (you just plug them into the cigarette lighter in your car).
Once installed, you pretty much forget about them until something happens, as they automatically turn themselves on when the engine starts and turn themselves off when it stops.
Thais aren't just using dashboard cameras to videotape the road, however. Bribery and corruption by Thai police is rampant, with most Thai drivers being stopped every few months and being asked for money.
That's why some drivers are now installing two dashboard cameras. One to videotape the road, and the other to videotape right outside the driver's window. That way, the next time a Thai cop asks them for a bribe they have it all on camera and the video will be up on YouTube within hours. Magic, eh?
The best place to buy a dashboard camera in Bangkok is at Fortune Town Mall (far less sleazy and rip-off than Pantip Plaza) or at one of the smaller IT or electronic shops scattered around the city. In other places in Thailand, your local IT mall should carry them or, if you're having trouble, you can order them online.
Lazada currently has a very nice 5MP Mini HD Car Video Recorder for just 999 baht ($34). They even have a video up showing it operating in a car with a nice clear picture even on a typical Thai rainy day. Check it out below.