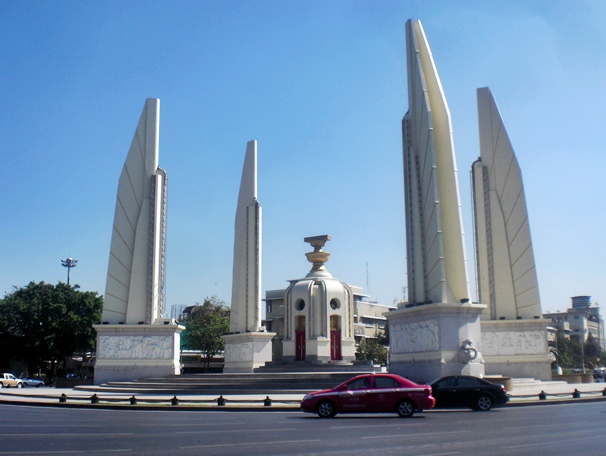 I was down around the Ratchadamnoen Road area of Bangkok a couple of weeks ago and happened to end up near Democracy Monument.
Built on a traffic roundabout with cars, trucks and buses whizzing around it at all times of day and night, Democracy Monument in Bangkok is actually quite a big deal when it comes to the history of the Thais and what past events mean to them.
The monument is enormous and was built to commemorate the 1932 coup, otherwise known as the 1932 Siamese Revolution. In its design it includes a number of carvings that are quite interesting.
If you look closely, you will see a box carrying the 1932 Thai Constitution (there have been many new ones since that one — too many, most Thais believe and few worth the paper they were written on), the four 'wings' which were designed to represent the four branches of Thailand's military, the mythical 'naga' fountains and several beautifully carved relief panels representing scenes of democracy and the Thai people.
If you would like to get a look at Democracy Monument in Bangkok for yourself, the easiest way to get to it is to head from the Chao Praya River at Phra Atit Pier to Khao San Road.
Walk the length of Khao San Road, turn right at the end and then take an almost immediate left. You will see Democracy Monument just up the street and, on a blue-sky day, it makes a beautiful photo.