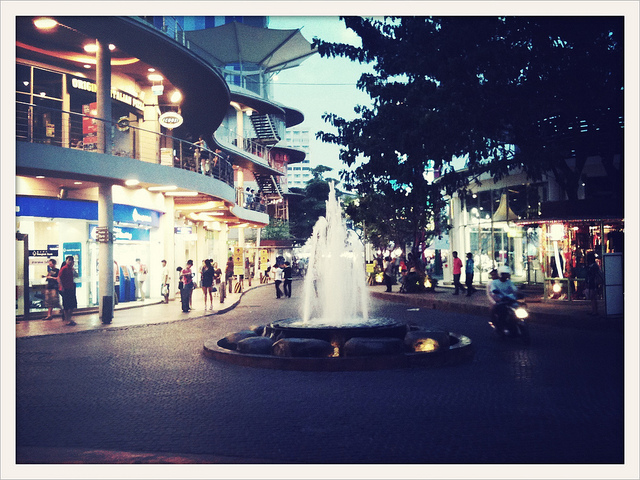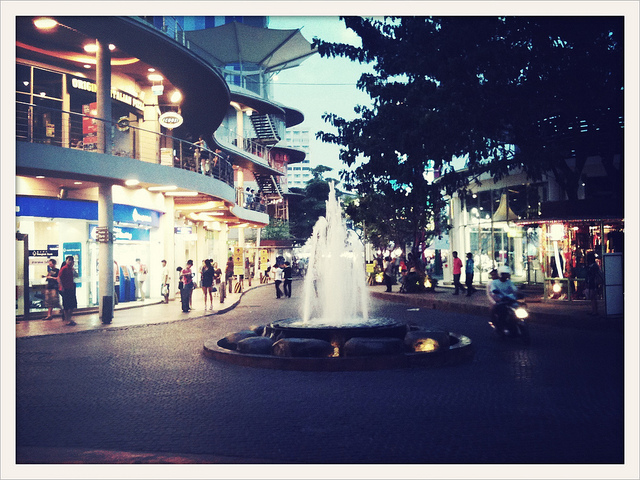 Northern Bangkok has some wonderful shopping malls and movie theatre complexes. Recently,  one on Pahonyothin became even better when Siam Future Development PLC opened Major Avenue at Ratchayothin.
Major Avenue, also known as Suzuki Avenue,  is a brand new shopping, eating and apartment complex that caters to middle-class and upper-class Thais and foreigners. It's a wonderful place to eat at a good restaurant, buy groceries at the up-scale supermarket or even wine at an excellently-stocked wine sellers. Major Avenue in Bangkok is a great addition to my neighborhood and here's why.
Location and Ease of Access of Major Avenue – On the corner of Ratchadapisek and Pahonyothin Road (thus called Ratchayothin!), Major Avenue eating and shopping complex sprang up very quickly.
It is on many major bus routes, only five minutes on the bus or on a motorcycle taxi from the underground station and sky train station, and has ample parking if you drive there.
Eating at Major Avenue at Ratchayothin – For me, the eating is the best part of Major Avenue. Bangkok has many wonderful restaurant chains (Thai, Japanese and Western food) and many of them are at Major Avenue.
If you and your family decide to eat at Major you have got a choice of Japanese restaurants (Oishi, Ootoya, Fuji, Zen and Fuji), an Italian restaurant, a Thai noodle shop, several Thai food restaurants, an Iberry ice cream store, Thai dessert stores, a McDonald's, several cake shops, smoothie stores, a Starbucks, hot pot restaurants and loads more.
I have eaten several times at the Ootoya restaurant (excellent and inexpensive Japanese food), once at the Italian restaurant (superb pizza, Parma ham sandwiches and lemon iced tea), and enjoyed delicious traditional Thai noodles at the noodle shop.
The Starbucks is a nice branch as it is quite large and a little quieter than some of the ones at the malls in Bangkok, and the Iberry ice cream shop sells wonderful homemade ice cream in cones or cups.
Shopping at Major Avenue at Ratchayothin – There' is a good Boots Chemist at Major Avenue on the ground floor and just behind the Starbucks. They have a nice selection of toiletries and a great selection of make up, often with sales for buy 2 get 1 free.
Check upstairs at the Everything 60 Baht shop, which sells products from Japan for less than $1.70 per item (I bought a good quality facial brush, a DVD holder, several cute plastic Japanese containers to hold leftovers, and two black lacquer trays to serve drinks.
And don't miss The Body Shop, if you're looking for make-up or bath and beauty products.
There is also a big wine seller at Major Avenue, which is unusual for Bangkok, and the prices were actually quite reasonable.
Just be careful about the alcohol laws as there are several hours of every day when you're not allowed to buy alcohol unless you're buying in bulk (don't ask! Dumb Thai alcohol laws). There's an eye glass shop, a very nice but upscale sunglasses store, and a three or four trendy clothing stores.
Major Avenue is also right next to a local market, where the stalls are put up at about 4pm and stay open until 11pm. Here you can buy cheap clothing, shoes, Thai snacks, bags, wallets, DVDs, artwork and other typical Thai market items.
Major Avenue is also right next to Major Ratchayothin, the cinema, shopping and eating complex so, if you can't find what you're looking for at Major Avenue, chances are Major Ratchayothin may have it.
Banks at Major Avenue at Ratchayothin – One thing I really love about Major Avenue is most of the major banks have branches here and they're open seven days a week. So, you can withdraw money from the ATMs or you can go inside and speak to a teller if you need to do something a bit more complicated. Makes shopping at Major Avenue very convenient.
Grocery Shopping at Major Avenue at Ratchayothin – One of the lovely things about Major Avenue is the Villa Supermarket here.
Now, I am not a huge fan of Villa as they are expensive but, if I just need a couple of things, it's easier to walk down to the Villa at Major Avenue and grab it than it is to take a taxi to a cheaper supermarket.
Villa sells excellent quality meat, cheese, vegetables and fruit, sushi, imported packaged products from the US, Canada, Australia, New Zealand and the UK. They also have a large wine and alcohol selection, although prices are slightly cheaper outside at the wine sellers.
Major Avenue at Ratchayothin is a wonderful addition to this area of Bangkok. The shopping plaze is convenient, there are many choices for eating or hanging out just drinking coffee or smoothies and, because it is right next to the cinema complex, you can even see a movie while you're at it.
Just be warned, Major Avenue/Suzuki Avenue iss absolutely crowded on the weekends so go early if you don't want to wait half an hour to eat lunch.