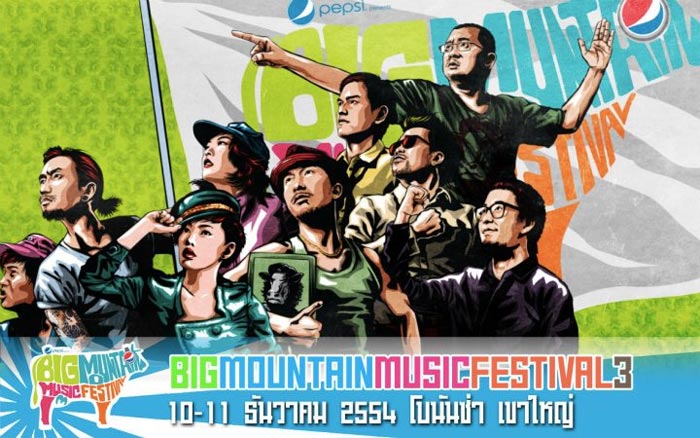 Thailand has a fair number of world-class music festivals and one of its most beautiful places is the Khao Yai National Park, just a couple of hours drive from Bangkok. Put these two things together and what do you have? The third annual Big Mountain Music Festival, at Bonanza in Khao Yai, that's what. It's Thailand's biggest music festival, with around 400 acts and 65,000 people in attendance.
Taking place this weekend – December 10th and 11th (two full days and two full nights), — the Big Mountain Music Festival 3 will feature such awesome Thai acts as Da Endophine, Potato, Bodyslam, Boy Peacemaker, Jack the Rabbit, and Palmy. Christina Aguilar (not to be confused with American star Christina Aguilera – Aguilar is 45 years old, and has been on the music scene much longer than the America phony), one of Thailand's most popular female singers will also be playing a long set.
The festival has several stages set up, so it will be continuous live music, food, drink and fun.
You can camp in the Khao Yai area but, being a comfort freak, I'd recommend staying in a hotel as the tents are really not that comfortable. And don't forget to take a jacket. Khao Yai in the winter can be chilly as the day goes on, so dress for it.
To get more information in English, head to the Big Mountain Music Festival 3 website, and click on the big English Information bull? Cow? Buffalo? (sorry, I don't know my cattle).
Tickets are now available for sale for 1,800 baht at Thai Ticket Major outlets (Tel: 02-262-3456), Major Cineplex, and the Post Office.
We highly recommend this one though – if you love music, this is THE Thai music festival to attend.
Check out the promo video too – very cool