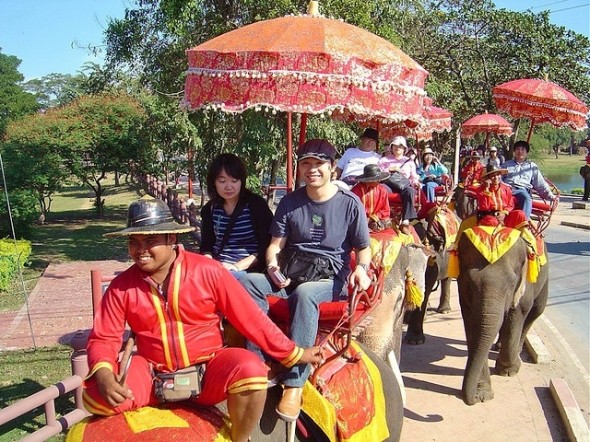 Although elephant riding in Ayutthaya had to be put on hold last year, as the city was under more than 10 feet of flood water for over 3 months, this year elephant riding in Ayutthaya is back again and it's just as fun as ever. You get to ride on an elephant's back around the ruins of the UNESCO World Heritage sites of Ayutthaya and, of course, you're shaded from the incredible heat under a colorful umbrella.
Elephant rides in Ayutthaya are not particularly cheap — around 1,000 baht ($32) for two people for a 30 minute ride, but you do get to walk through the streets of Ayutthaya on elephant bike and it does keep the elephants and their owners in business.
Since much of Thailand's logging was stopped a few years ago, it's very difficult for Thai elephant owners to get work with their elephants nowadays. So, while these touristy elephant rides might seem 'cruel' to some, it does keep the elephant fed and taken care of and the owner in work. Not an ideal life, but it is……life.
You'll find the elephants and their mahouts near the ancient ruins in Ayutthaya.