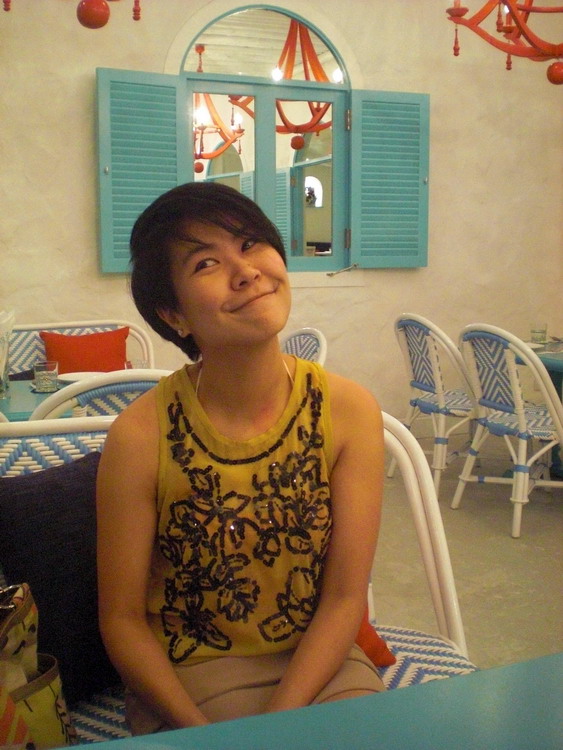 This week, I went with a Thai friend to Terminal 21, Bangkok's new, and massive, lifestyle mall. Packed full of restaurants, we stumbled on a Thai fusion restaurant called Dory Seafood by Chomtalay Hua Hin. Empty except for just one couple, we still decided to try it as it was one of the prettiest restaurants at the mall. We left there three hours later, having eaten the best seafood pasta I have ever eaten in my life, along with other tasty goodies. That I've already made arrangements with another friend to eat there again next week should tell you right away, run don't walk to Dory Seafood by Chomtalay Hua Hin. The food is superb.
Location of Dory Seafood by Chomtalay Hua Hin – Located on the Pier 21 level of Terminal 21 shopping mall (level 5), Dory Seafood by Chomtalay Hua Hin is on the right hand side of the Pier 21 foodcourt. Painted a light turquoise blue with red accents and lots of beach-style stripes, it's a stylish,light,and bright place to eat and is one of the prettiest restaurants in the entire mall.
Chomtalay is actually one of the most popular seafood restaurants in the Thai beach resort of Hua Hin. That they've now chosen to open a restaurant in Bangkok, well, I couldn't be happier.
The Food at Dory Seafood – Now, let me start by saying I'm very picky about what I eat. If I don't enjoy it, I don't eat it, ever. That's why, when I say Dory Seafood by Chomtalay Hua Hin has some of the best Thai seafood and fusion food I have ever eaten in nine years of living in Thailand, and that I ate every bite — you know this restaurant is good.
The menu at Dory Seafood isn't overly large, but there's plenty of choice and, with many styles of seafood, fish, pasta, as well as appetizers, salads and, of course, incredibly yummy desserts, it's still difficult to decide on just one dish. We finally ordered one appetizer to split between the two of us — crispy fried morning glory (vegetables) with seafood. My friend then ordered seafood pasta, and I decided on fish and chips. A Singha beer and a Heineken later, and we were settling in for a nice chat. But, when the food arrived just a few minutes later, all our plans to talk about boyfriends, shopping, vacations and work flew out the window, as we spent the next ten miinutes exclaiming over how incredible this food was and then enjoying every delicious bite.
The crispy fried morning glory was piping hot, and served as it was with fried onions was absolutely superb. The seafood pasta, which I was only allowed to take one forkful of before my friend decided she was definitely eating the rest of it herself and would I please get my hands of it, was incredible. Spicy, tangy, and flavorful, the pasta was cooked perfectly, the seafood was the freshest I think I've eaten, and the extremely hot spice (my friend, being Thai, requested it spicy) was amazing. Twenty four hours later, I can still taste that pasta and I can't wait to get a plateful for myself. I'll be doing that on Monday.
The fish and chips too were wonderful – the batter was light and the fish fresh, and the french fries actually arrived hot — something that rarely happens in Bangkok. Served with a side of mayonnaise, they were — perfect.
The service too at Dory Seafood was excellent. Two lovely waiters brought our food and replenished our glasses of beer and were just as I love waiters to be — attentive but not too pushy, and then left us alone to enjoy our food.
Dory Seafood also has several choices of dessert, all which looked scrumptious and a nice selection of fruit juices, soft drinks, beers and wine.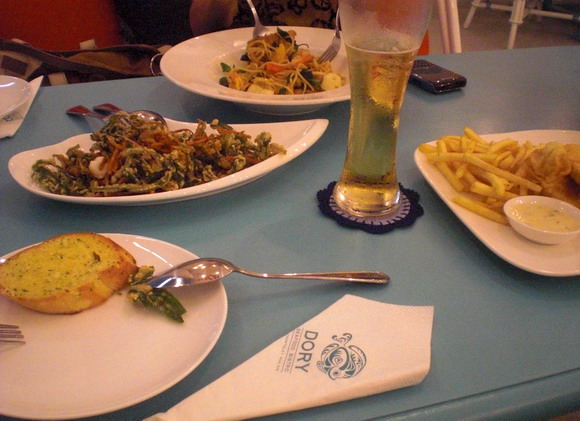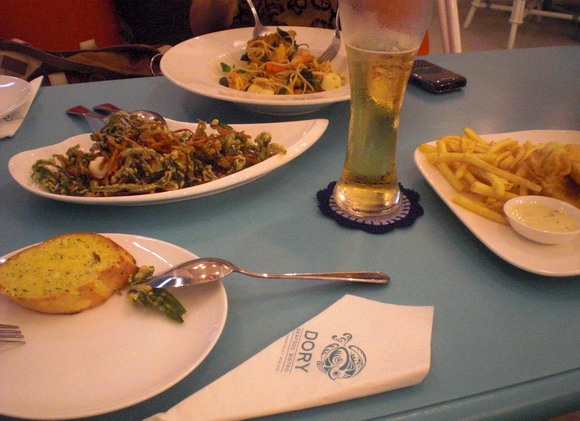 Prices at Dory Seafood – As a relatively upscale restaurant, you'd expect the prices to be expensive. But, they're not. Dishes start at around 100 baht ($3) for appetizers and go up to 300 baht ($10) for main dishes. Most main dishes, however, are in the 150-230 baht range ($4.85-$7.50), extremely cheap for the superb quality of food, the presentation and the portions.
For the crispy vegetables, a seafood pasta, fish and chips, two Heinekens and two Singha beers, our total bill was 800 baht ($26 – only $13 each) and it was worth every single baht.
If you, like me, love a relaxing atmosphere, great food, reasonable prices, all in a place that just feels so nice, you musn't miss eating at Dory Seafood by Chomtalay Hua Hin. It really is perfect.