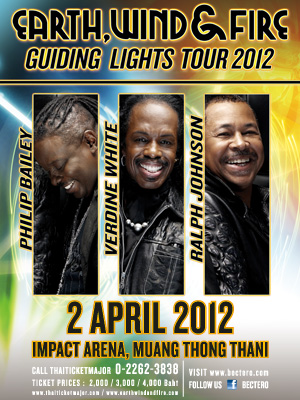 If you haven't bought your tickets for the Earth, Wind and Fire Guiding Lights concert in Bangkok on 2nd April yet, you might want to do it soon as I hear they're selling fast. A blast from the past for me, as Earth, Wind and Fire were popular when I was just hitting my teens,, they've recently made a comeback and really are just as good as they ever were. In fact, if you love soul, jazz, R&B or funk, Earth, Wind and Fire really is the band to see live.
Earth, Wind and Fire have been around since the early 1970s and have influenced so many modern bands and artists, if they had never existed the nature of modern music would be very different today. Bands and artists like Linkin Park, Usher, Phil Collins, Five for Fighting and Lenny Kravitz have all said over and over that Earth, Wind and Fire had an enormous impact on their music, so it's fascinating to see them still going strong more than 40 years after they were first founded.
Expect them to play lots of your favorites too – Boogie Wonderland and Fantasy are just two that you'll definitely hear.
The Guiding Lights concert is at Impact Arena, Muang Thong Thani, which is a perfect venue, and tickets are currently on sale at 2,000, 3,000 and 4,000 baht. You can buy tickets through Thai TicketMajor. Gates open at 7:30pm and the concert begins around 8:30pm, so it's going to be a late night.