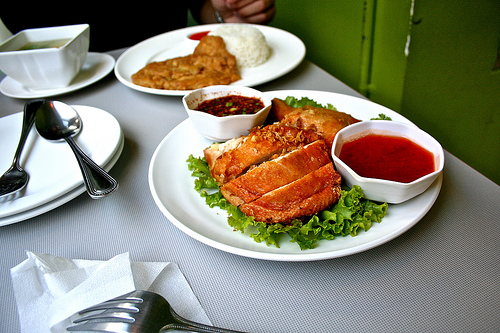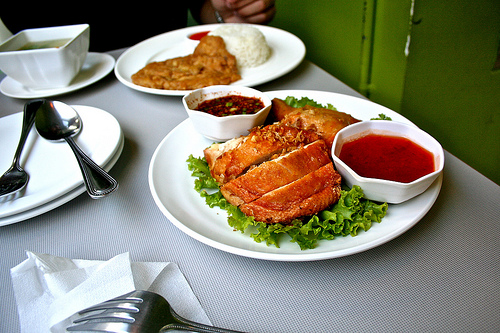 Want food in Bangkok that's "cheap and good?"  Look no further than Took Lae Dee. Took Lae Dee restaurants are some of the most famous restaurants in Bangkok. A Thai restaurant chain that's only in branches of Foodland supermarkets, Took Lae Dee serves excellent food at a cheap price. In fact, in Thai, Took Lae Dee actually means 'Cheap and Good',  so right away you know what you're getting.
Took Lae Dee is also famous in Thailand as it's appeared in many Thai movies.  The restaurant chain opened in 1985, and it's been popular with Thais and expats ever since. I eat at a Took Lae Dee restaurant in a Foodland supermarket at least once a week and have done for years, and here's why.
Location of Took Lae Dee Branches – Took Lae Dee restaurants are always located inside Foodland supermarkets. They are popular because you can eat breakfast, lunch or dinner and then go grocery shopping. Plus, as Foodland is open 24 hours a day, so are the Took Lae Dee restaurants.
So, at 3am, if you suddenly have a craving for some good home cooking, you can head to one of the Foodland branches and have home-cooked-style food. There are 12 branches of Foodland in Bangkok and 9 of them have Took Lae Dee restaurants. As Foodland supermarkets are usually in good and easy to get to locations, the restaurants are too.
Atmosphere of Took Lae Dee – I like the atmosphere at Took Lae Dee as the restaurant is built right inside the supermarket, but set back so it seems like it's standing apart. Every Took Lae Dee has an assortment of table seating and counter seating (with the typical high chairs). The table seating is more comfortable but the counter seating is usually more efficient, especially at lunchtime when the service can be slow due to the massive crowds eating there.
Staff at Took Lae Dee – Even though they're busy, the staff at Took Lae Dee is friendly and helpful. If you take your time perusing the menu, they'll come back a few minutes later, no problem and, if they end up not having what you want, they come back quickly to let you know and to suggest an alternative menu choice.
Food at Took Lae Dee – As the name states, the food is cheap and delicious. Took Lae Dee serves a mix of Thai, European and Chinese food, with an extensive menu. Everything is served piping hot and, as the chef is right behind the counter, you can see everything being prepared, so you know it's fresh.
Portions also are good and you can eat quite well for 80-100 baht ($2.75 to $3.10). My favorite dish is the steak with fried egg and french fries and a side salad. At only 110 baht (about $3.30), it's a great deal. The steak is cooked perfectly, as is the fried egg and, unlike many places in Thailand, the french fries arrive hot too!
The Thai food they serve is also excellent and, again, arrives cooked perfectly. The Thai spaghetti is good, as is the fried fish,and the hamburgers. They also do an amazing American Breakfast all day but, between 5:30am and 9:00am, it's on special. The American Breakfast consists of toast, eggs, bacon, ham, sausages, orange juice and tea or coffee – a great start to the day.
The Downside of Took Lae Dee – The only downside to Took Lae Dee is that it's incredibly busy at lunchtimes. I've eaten there at lunchtime several times and had to wait over 30 minutes for food to arrive (difficult, when I only have an hour for lunch).
Dinner, however, is a different matter. There are less people, the food arrives freshly cooked very quickly and the service is excellent. This is why I always recommend to friends that they eat at Took Lae Dee for either breakfast or dinner, or late at night when the service is better.
Took Lae Dee is one of Bangkok's famous restaurants and for good reason. The food is freshly cooked and the chef uses high-quality ingredients, so it's delicious every time. Hygiene is also good in all Took Lae Dee restaurants, the staff is well-trained and helpful, and the location of each restaurant is good.
I also love that I can eat there and then go and do my grocery shopping afterwards, easily killing two birds with one stone in a city that is extremely crowded and often difficult to navigate. Took Lae Dee and Foodland make that just a little easier.