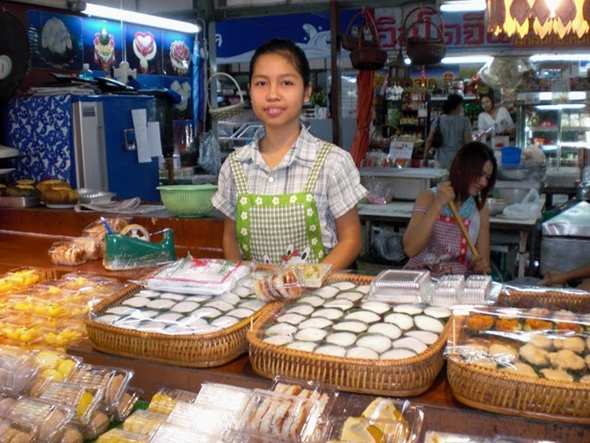 Several times a month, I make sure I go to Bon Marche, an upscale market relatively close to my apartment. Bon Marche, so rumor has it, is owned by one of Thailand's princesses and is a massive open-air market with not only the usual market food stalls, but also a huge outdoor food court, and lots of high-end air conditioned restaurants. There's also a wonderful three storey shopping center selling bags, shoes, household items, jewelry, handicrafts, toiletries and more.
Although I always shop, one reason to go to Bon Marche is for the food court and the market stalls also selling food. At the food court there are stalls selling typical Thai dishes, a Thai Muslim food stall, a sausage stall, one selling Vietnamese food, stalls selling chicken pies, apple pies, Thai desserts, fruit and on and on.
With more than 70 food stalls to choose from and a huge seating area overlooking a man-made lake, Bon Marche is a good place for a cheap lunch or dinner.
The food here though is slightly more expensive (5-10 baht or 12-25 cents more) than typical Thai food courts but the quality of food is also higher.
And, I never leave Bon Marche without taking home at least three of the hot apple and raisin pies one of my favorite market stalls sells. The seller there is lovely and her pies are incredible and, at 50 baht ($1.55), you can't beat the price.