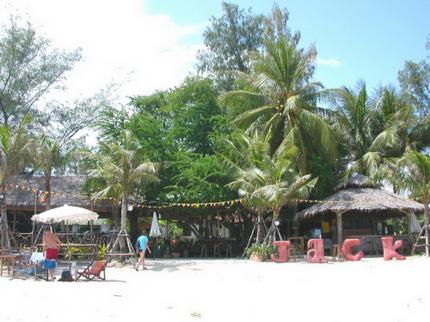 There was a murder of a British national in Thailand yesterday with the beating death of an elderly British retiree and his Thai wife. The murder took place at a small beach resort, Jack Beach Resort in Prachuap Khiri Khan, relatively close to Hua Hin. The British man, 68-year-old Michael Raymond and his Thai wife, 52-year-old Suchada Bonkamdi were beaten to death by two, possibly three, Thai men, who were robbing them.
The men only managed to get away with a few hundred baht, an ATM card, and a mobile phone, and were arrested by Thai police soon after. A cook and a security guard at Jack Beach Resort were two of the men arrested and they confessed to the murders. A fisherman was also arrested but he continues to insist he was not involved.
Michael Raymond lived with his wife Suchada in Khon Kaen, where they'd been living since their marriage two years ago. They'd only booked in to the Jack Beach Resort for one night, just for a short holiday.
Of course, since the murder hit the pages of some of Thailand's most notorious expat forums, the "everything is terrible in Thailand" gang are out in force. Western men (yes, they're almost always men) who seem to delight in slamming everything about Thailand, Thai people, Thai culture and, of course, Thai women, are now bemoaning how the "crime rate in Thailand is much worse" and how "Thais don't like foreigners". Total garbage, I might add.
The crime rate in Thailand against westerners, particularly taking into consideration the large number that are here, is low. In fact, in 10 years of living here, I've never had one problem with a Thai, who I would trust in large numbers before I would trust many westerners here, I might add.
In fact, the murder of Michael Raymond and his wife, Suchada, with this "Thais hate foreigners" brigade seems to have missed one thing. Mr. Raymond's wife was Thai, and she certainly wasn't spared a brutal death.
What is sad, however, is Thais always have high respect for the elderly, so that the two murdered were in their 50s and 60s is much more shocking to Thais, as in Thailand this type of brutal crime against older people simply shouldn't happen.
You also have to feel sorry for Jack Beach Resort. A somewhat quiet and rustic resort right on the beach that has always been laid-back and friendly has now been tainted with a murder of two of its guests. Like most murders that happen in hotels all over the world though, it's highly unlikely it was Jack Beach Resort's fault. After all, no hotel can control everything their staff members do.