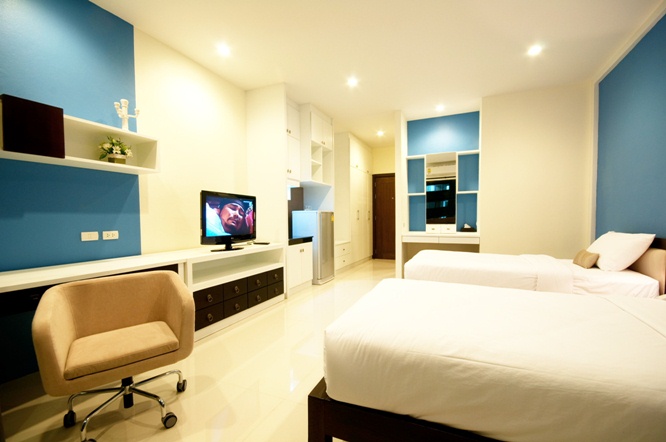 The Empire Hotel is a relatively new hotel and serviced apartment building in Chiang Mai, Thailand that's been open for just over a year.  I recently spent three days at The Empire Hotel and, after excellent service, a beautiful room and being in an amazing location in Chiang Mai, The Empire is now my favorite Chiang Mai hotel.
Normally, I stay at another hotel in Chiang Mai but, because The Empire was recommended by a Thai friend, I decided to stay there instead. The Empire Hotel has only been open for a few months but is already attracting a lot of attention from other tourists.
It's a hotel plus a serviced apartment building, which makes it even nicer as each room has been set up like it's a serviced apartment, so it has amenities that other hotels don't always offer.
I traveled to Chiang Mai with a Thai friend last weekend and, we drove to the The Empire Hotel directly from the airport. Upon arrival at the hotel we both were immediately impressed.
The Empire is located right in the middle of Nimmanhemin Road, which is one of the most popular shopping and restaurant streets in Chiang Mai. It's a large seven storey building that looks beautifully clean from outside and even cleaner inside. We checked in at the reception desk and were immediately given the key up to our room., so we headed on upstairs.
We had requested a single room on the 5th floor with twin beds and, when we opened up the door to the room, we were both immediately happy. The room was very large, with two twin beds, a refrigerator, a coffee pot and all the ingredients for coffee or tea, two large cups, plates, knives and forks, and a kitchen sink.
There was also a large flat screen TV with cable TV (with lots of channels!), and a big tiled bathroom with a beautiful glassed in shower and large mirrored area to get ready.
From the bedroom, glass sliding doors led out onto a huge balcony overlooking Nimmanhemin Road. The main thing that struck me though was how incredibly clean and shiny everything looked, from the mirrors, the sheets and the bathroom, right down to the shiny tiled floors.
After we had checked into The Empire Hotel, we decided to walk around the neighborhood. I have never seen so many cute coffee shops, restaurants, bars and clothing stores. Nimmanhemin Road is wonderful because
everything is within walking distance and it's an artistic, unique neighborhood with something for everyone.
It's also easy to travel around the rest of Chiang Mai from here as there are tuk-tuks and song taews (pickup vans) that are easily hailed from anywhere on the street and will take you almost anywhere in Chiang Mai for less than $1.
For the two nights we stayed at The Empire Hotel in Chiang Mai, we both slept well. A night at The Empire also includes breakfast, downstairs in their pretty restaurant where you can sit inside or out.
For breakfast you have a choice of an American Breakfast, a Continental Breakfast, Joke (Thai porridge) or Thai fried rice. They all come with orange juice and coffee.
The Empire Hotel offers a night's stay for between $32 and $95 depending on the size of the room. $32 gets you the twin room we had, which was huge and very nice. They also offer larger single rooms, double rooms or Super Deluxe rooms, which are basically a full apartment with living room, dining room and kitchen.
Every room is air conditioned, with cable TV, hair dryer, and in room internet service. The staff is friendly and very helpful, the hotel is superbly clean, the rooms are very comfortable and the location is perfect. Seriously, what more could you need!
I highly recommend The Empire Hotel in Chiang Mai. Anyone would love it.