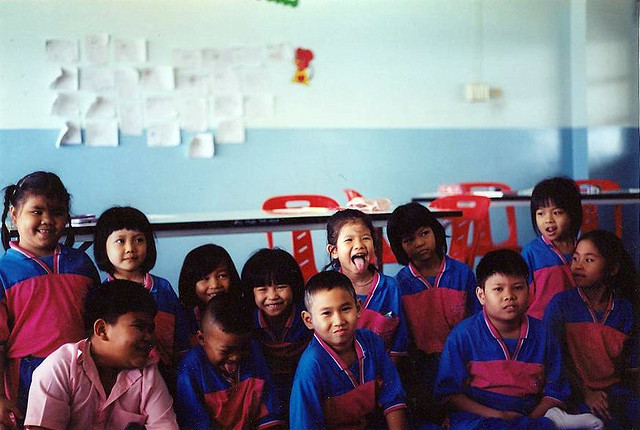 One of the many questions would-be teachers have about teaching English (EFL) in Thailand is what kind of employee benefits does a teacher get. With teachers getting pretty decent benefits in western countries, do the employee benefits in Thailand compare? Called benefits in kind in the United Kingdom, things such as health insurance, housing, sick leave and social security are common in many countries, but what benefits are common in Thailand? With no real government mandated norm, it actually depends on the school.
Housing Benefits – Some schools pay a housing allowance every month, which depends on the type of school and how much money they have. Government schools don't usually pay this, but private schools often do.
My first teaching job in Thailand was at a private bilingual school. With a salary of 47,500 baht ($1,583) a month, I was also paid a 2,750 baht ($92) housing allowance that wasn't taxable.
While that doesn't sound much in western terms, some teachers in Thailand live in apartments or houses that only cost 4,000 baht ($133) a month so, with that housing allowance, most of your rent is paid. At your job interview, ask if there's a housing allowance and how much.
Health Insurance – Many schools in Thailand will offer some type of health insurance for teachers. While getting health care in Thailand is cheap and excellent, it still pays to have health insurance in case you ever need expensive medical care. Some schools offer health insurance through BUPA, others through Thai insurance companies, but most will give you at least a minimum amount of health coverage every month to put your mind at rest.
Obviously, the private schools generally give a better health insurance policy than government schools.
Sick Leave – According to Thai Labor Law, an employee must be given sick leave every year. This varies depending on the company but most schools will give you at least 10 days with a note from a doctor required after an absence of three consecutive days.
Annual Leave (Vacation) – You're entitled to the full 13 days of normal Thai national holidays every year, plus at least six days of vacation after a year's work.
In reality, most teachers in Thailand get the full 13 days plus an additional 6-8 weeks paid vacation. Government schools in Thailand generally give less or no holidays at Christmas (Thailand is a Buddhist country so technically doesn't celebrate Christmas but many private schools give a week to two weeks anyway, government schools usually nothing except 3-6 days for New Year), but 2-3 weeks around March to May and another 3-4 weeks in September or October is the norm.
Maternity Leave – Thailand has an excellent maternity leave policy with every company, including schools, being mandated to give a new mother 90 days leave, with 45 days of that being paid leave.
Retirement Benefits and Social Security – For foreign teachers teaching English in Thailand, there are no retirement benefits or social security (for Thais, they only get them if they work at a government school). That's why, if you come to teach in Thailand and end up staying permanently, you have to figure out your own retirement savings as you don't want to be destitute when you retire.
The Thai age of retirement is 60 years of age, although many schools will keep you on if you're still working at age 60 and want to continue (this is for foreign staff and not Thai who are usually forced to retire).
Free Education for Your Children – Most schools will not give you this, although some private ones will. As education is cheap in Thailand though, you're only going to end up paying a couple of hundred dollars a year so it's not that big of a stretch. Free, basic education is compulsory in Thailand but you still have to pay certain fees to enable your child to get an education, which will normally come to around 6,000-8,000 baht ($200-266) per year.
Free Lunch – At most schools, you'll either get a free lunch or be able to buy a very cheap one (as low as 15 baht – 50 cents- per meal and the food is usually plentiful and delicious).
Overall, benefits for English teachers in Thailand are low compared to the west but the main thing you will miss are retirement benefits and social security. However, many English teachers in Thailand don't realize they do have the same rights in most areas as Thai teachers. So, if you end up at a school where you're not getting the benefits you should, contact the Ministry of Labour. They will help you.