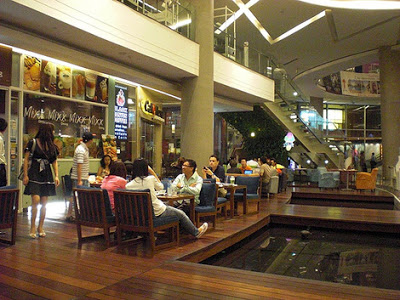 One of the best malls in Bangkok, Thailand for cheap restaurants is Esplanade Mall on Ratchadapisek. With a huge selection of restaurants, both in the mall itself and in a large dining area in the basement,  Esplanade Mall is the place to eat.
Luckily, there are many cheap restaurants, serving Thai, Asian and Western cuisines, all at prices well below comparable restaurants in the west. On your next trip to Esplanade Mall, don't miss dining at these cheap restaurants; they're some of the best.
Hachiban Ramen – My favorite Hachiban Ramen noodle restaurant is in the basement of Esplanade. Hachiban is a Japanese chain noodle restaurant, easily recognizable by it's big yellow sign with the figure '8' in the center.
At Hachiban, you'll find various noodle dishes, served with pork, shrimp, chicken or duck and vegetables. They also serve the best pork dumplings, octopus balls, crispy spring rolls, and a whole host of traditional Thai desserts. Soft drinks are cheap and a family of four can easily walk away from Hachiban, absolutely stuffed full of tasty food, for 450 baht ($15) or just $3.50 per person.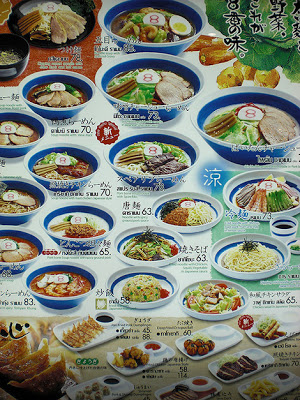 Lee Cafe – Another cheap restaurant at Esplande Mall is Lee Cafe, a trendy Chinese restaurant serving decent sized portions of tasty Chinese food. The great thing about Lee Cafe is their menu is large, so there's a good choice, and they always have specials, making it even cheaper to eat here.
Try the fried chicken spring rolls or dim sum for an appetizer and, as for entrees, my favorite is the Chinese steak. At Lee Cafe, with a soft drink, you can get away with lunch or dinner for two for around 400 baht ($13), and that's for a couple of appetizers and entrees – plenty of food.
Au Bon Pain – My favorite American chain restaurant is Au Bon Pain, and they have a nice one at Esplanade. Au Bon Pain is a wonderful place for cheap western food and for great sandwiches. Sandwiches start at 100 baht ($3.10) and they're wonderful.
You can choose the bread you want (croissant, baguette, wholemeal, white, bagel etc.) as well as have a nice choice of fillings. The California Chicken is one of my favorites, which comes on a lovely soft roll, and the Tomato and Basil Pesto is excellent too. Also don't miss the various already-prepared salads. The Chef Salad is a good choice for $3.
Au Bon Pain also serves a delightful array of pastries, cakes and cookies. They have the best oatmeal cookies in Thailand, superb brownies and, at Christmas, delicious gingerbread men. Add a latte and, for a lunch of sandwich, cookie or cake and latte, you'll walk out of there only 200 baht ($6.50) worse off.
Ootoya – Although some people still think Ootoya Japanese restaurant is expensive, it's not, it's cheap. Especially for the quality of food and the large portions (and I won't even mention the friendly staff). Ootoya, at Esplanade Mall, serves rice and noodle dishes, as well as sets (a meal plus a couple of side dishes and a drink).
A meal of rice plus a curry or meat topping and vegetables starts at only 120 baht ($3.40) and you can get a set meal consisting of rice, chicken, egg, seaweed topping, a bowl of miso soup, some fresh fruit and green tea for only 200 baht ($6.50) and the food really is superbly fresh and delicious.
You'll find Ootoya in the basement of Esplanade Mall, surrounded by around 50 other restaurants, many of which are cheap.