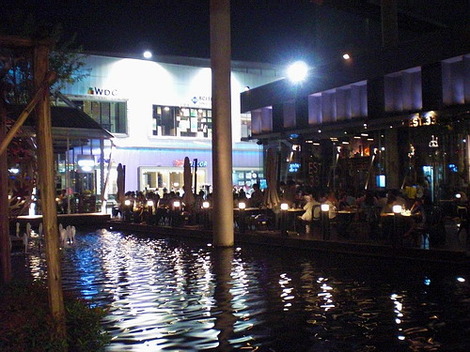 One of my passions in life is checking into new restaurants and bars in the ever-changing city of Bangkok. So many new places open it's hard to keep up, but when a place like Est. 33 opens anyone who's chic, cool and 'in the know' has not only heard about it, they're practically living there. Est. 33 is a new microbrewery that's opened up in the middle of Bangkok's trendy Crystal Design Center. Drawn by the huge crowds and stunning outdoor water-side seating, a Thai friend and I discovered Est. 33 a couple of months ago, and we've been many times since.
Where and What is Est. 33 – Est. 33 is a huge microbrewery founded by one of Bangkok's two largest beer companies – Singha Beer. Targeting the young, hip and cool, and of course those who wish they were, here you'll also find the mega-wealthy who love to see and be seen at such an 'in' place. Sure, it's a bit pretentious, but what fashionable Bangkok bar isn't?
Est. 33's location too is genius. Built in the most popular and newest hip place in the city, Crystal Design Center, Est. 33 is slap bang in the middle of it all. Surrounded by restaurants, cafes and coffee houses, Est. 33 stands out as it's located right on the edges of a huge man-made pool, lit with beautiful lighting and with some of the prettiest deck-style seating you've ever seen.
What Does Est.33 Serve? – Of course, it's a microbrewery, so beer is the first order of the day. They're known for their Est. 33 Shandy (a mix of beer and lemonade) and it's wonderful, as well as for the "Mysterious" black beer and a few styles of beer like a British bitter and an American-style lager. Being a microbrewery though, beers change often so, if you're not so thrilled one night, the week after try them again. You can also see the beer being brewed and the guys behind the bar are more than happy to answer your questions – plus they speak English too, an added bonus in Bangkok.
Beers begin at only 120 baht ($4), which for a true micro-brewed beer is pretty darn amazing.
The food at Est.33 is a perfect compliment to the beer. Some people sit inside the glass-sided restaurant, but most sit outside on one of the large open-air decks and the food goes perfectly with such a relaxed atmosphere. German sausages, chicken quesadillas, chicken wings and a whole slew of Thai snacks. Price-wise, they're pretty inexpensive, and taste-wise they're even better. I particularly recommend the German sausages. Thais are amazing at making sausages, but these are some of the best I've had in Thailand.
Est. 33 also plays decent background music and, as it's surrounded by so many other restaurants, the volume is a lot lower than it would be at other microbreweries around town. An added bonus when you don't feel like screaming across the table to the one who brought you.
Our only complaint on several occasions was, although nice, the staff at Est. 33 aren't the most efficient bunch around. On our first visit, we waited over 30 minutes before we could even order a beer, let alone get food, and our second time there wasn't much better.
It is one of the busiest places in Bangkok though, even on a Monday and Tuesday night when many other places in Bangkok are quite. The last time we went, we had to wait 30 minutes for a table so I'd recommend making a reservation if you hate to wait.
Est. 33, Singha Beer's newest venture, is at Crystal Design Center – Center Building E, Ekkamai-Ramintra Road, Bangkapi in Bangkok.