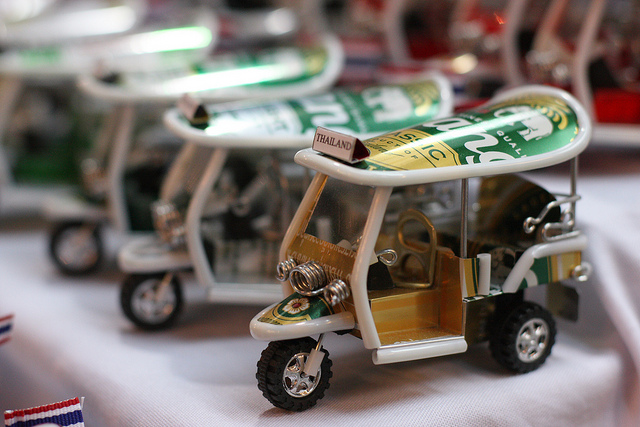 One of the things Thai artists and handicrafts experts have been good at creating are models of typical Thai things made out of beer cans. While that might sound a little tacky, they're really not. In fact, they're so beautifully designed and created and include all the teeny tiny details, they're a fun thing to buy as a gift from your holidays.
This photo of a row of model tuk-tuks made from beer cans was taken by yeowatzup at the now defunct Suam Lum Night Bazaar. (Does anyone else hope the office complex and mall they're building, instead of allowing the country's best night market to stay open, is an absolute miserable flop? I know I do, and I'll never set foot in their either).
The photo is available on Flickr, under a Creative Commons License. We've added it to our Featured Photo section.
We love it!
By the way, if you plan on riding in a real tuk-tuk while in Thailand, make sure you read How to Ride in a Tuk-Tuk Safely before you do.