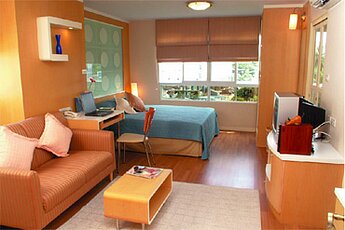 One thing expats find frustrating when they first arrive in Bangkok, Thailand is the best way to rent or buy an apartment, condo or even a house. Bangkok is enormous and most of the apartments, condos and houses are advertised only in Thai language newspaper and publications. For a farang (westerner) who's new to the city, just figuring out the best areas to live in and finding the available properties can be a nightmare. That's where online real estate agents come in, and Bangkok has some excellent ones. So, if you're looking to rent or buy an apartment, condo or a house take heart. These internet real estate agents can find you a perfect property and help negotiate the deal.

Easy Homes – One of the best online real estate agents (and most popular with westerners) is Easy Homes. The wonderful thing about this internet real estate agent is, they don't care if your budget is just a few hundred or a few thousand dollars a month, they'll help you find a perfect property. Easy Homes also has an excellent reputation for working with clients to find exactly what they want, as well as negotiating with landlords for the best possible deal.
With listings in every area of Bangkok, you can do a search on their website for properties by location, price, rental or purchase, properties near specific skytrain and underground stations, and properties near international schools and universities. With rental prices beginning as low as 4,000 bath a month ($110) and going up to over 200,000 baht a month ($6,000) there are property listings for every budget. For expats who want to purchase property, prices start at 1 million baht (around $23,000) on up. Photos of each listing are also included on most properties.


Thai Apartment.com – Another of the popular online real estate agents in Bangkok is Thai Apartment.com, run by Acute Realty. This real estate website also offers properties for both rental and purchase with similar budget categories as Easy Homes. Their website is updated daily and offers excellent photos of properties available so you can weed out the ones of no interest to you before actually visiting the property. ThaiApartment.com also has good listings of serviced apartments and office space and you can search by location, budget, area or type of property.
Bangkok Rent.com – A slightly smaller online real estate agent is Bangkok Rent.com but the wonderful thing about this real estate agent is they specialize in lower-end properties with rentals under 50,000 baht only ($1,515).They also have short-term rentals available, perfect for expats who only plan on being in Bangkok for a few months, or long-term if you know you'll be here a while. Again, you can search by location, price, property type, size etc. Just about the best thing about this website though are the photos. Larger and much clearer than photos on other sites, you can really see what you're getting before you go there.

Click4Apartment.com – Click4Apartment.com is an online real estate agent that splits their website up into Popular Listings and areas. This site not only has many property listings for Bangkok but also covers other areas of Thailand such as Chiang Mai, Phuket and Pattaya. They have short-stay and long-stay properties and guarantee the lowest rate possible (which means it's good to search for similar properties on several real estate sites to compare rental prices, so you can negotiate better). Click4Apartment.com even lists hotel and holiday rentals on their partner site, RoomMillion, if you're just coming to Thailand for a vacation.
These are just four of the online real estate agents in Bangkok, Thailand. Remember, spend time doing searches on several real estate websites before contacting them, so you know exactly what's available, the rental or purchases prices each real estate agent has listed and what you can expect for your budget. Then, arrange to see several properties with at least a couple of agents and sign with the one you like the best. All of these agents offer fee-free service (the fees are paid by the landlords), so you have nothing to lose but time.
SOURCES: